THAT '70s SHOW
The Jaundiced Eye View
Updated on 21 MARCH 2003.

When Fox announced "That 70s Show" in 1998, we knew that it would be a ratings success (see The Original Danny Masterson Fan Page and its detailed analyses of Nielsen television ratings to find out how we knew!), and we started one the first two or three Internet fan pages for the program to show our support.
In 1999, however, Yahoo! Inc. took over GeoCities, where our original homestead is located, and demanded that GeoCities members agree to surrender to Yahoo! Inc. the right to publish any and all materials on their web pages without paying any royalties and without allowing the members any control over how Yahoo would use the material. After a storm of protest and an international boycott, the Yahoos finally locked out anyone (including us) who refused to sign away to the Yahoos all rights to the material on their web sites. This is absolutely, totally, completely 100% unacceptable to us, and we were obliged to begin the slow and laborious process of "mirroring" our homestead to Lycos-owned Tripod, which is pledged to protect the copyrights of its users and the third parties (like Fox-TV, which airs "That '70s Show"!) who have authorized their copyrighted materials to be used by licensees on the Internet; licensees like The Jaundiced Eye.
Finally, despite the Yahoo!kuza deleting all of our files (Hey -- you guys didn't need 10 megabytes of pix, did you?) we are once again able to resume updating our "That '70s Show" fan page, and we have chosen the New Millennium to do so. Why? Because . . .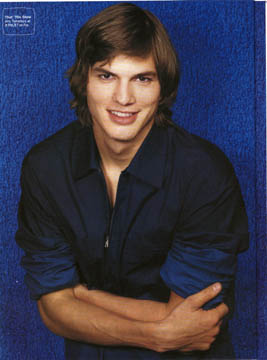 Ashton Kutcher photographed by Darryl Tooley for TV GUIDE.
©2000 TV Guide Ultimate Cable Guide magazine, December 30, 2000, Vol. 48, #53.

21 MARCH 2003: SQUELCH THAT RUMOR! DANNY, ASHTON AND WILMER AREN'T DEAD
Some of you may have heard that Danny, Ashton and Wilmer from "That 70s Show" were killed in a plane crash. WRONG!
The three were, however, on a small plane which encountered extreme turbulence as it was bringing the three actors and "Seventh Heaven" stars George and Geoff Stults back from the New Orleans Mardi Gras. The turbulence was so severe that the pilot deployed the oxygen masks in case of a plunge or crash.
Stephen M. Silverman and Julie Jordan reported in an article on AOL.com's "People Daily News" for March 13th that the plane landed safely and that no one was injured.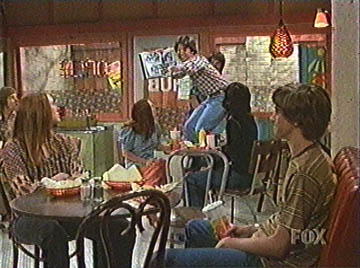 Listen to Timmy. He always knows what's going on in Point Place.
(c) Fox Broadcasting.

WE KNOW ABOUT THE "BUSTED" PICTURE LINKS
The bad picture links here linked back to our original page for "That 70s Show," which was commandeered by the Yahoo!kaza. We (hopefully) fixed them by placing replacement pix here on Lycos. Sorry for the inconvenience....

. . . Ashton Kutcher's film Dude, Where's My Car? was wildly successful, was very, very funny, and it was such a hit that it landed him a solo photograph by Darryl Tooley on the cover of T. V. Guide. magazine. (Which also has a revealing discussion by Shawna Malcolm of how he and co-star Danny Masterson got into a full-on brawl defending the honor of a young woman in an L.A. eatery.)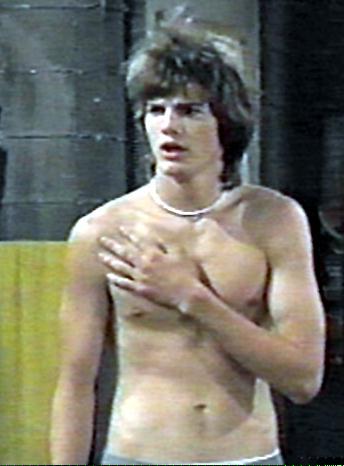 Ashton Kutcher as Kelso.
(c) 1998 by Fox Broadcasting Company.
AND FEBRUARY 7th IS ASHTON'S 23rd BIRTHDAY!
Chistopher and Laura sittin' in a tree . . . K-I-S-S-I-N-G
Surrounded by Christophers (Christopher Grace, Christopher Ashton Kutcher, etc.) who do you suppose Laura Prepon lives with? Would you believe that Danny "Steve Hyde" Masterson's brother, Christopher Kennedy Masterson, who plays Francis on Fox's "Malcolm in the Middle" claims that honor? He does!

SO ABOUT THIS COPYRIGHT THING
All of the images of "That 70s Show" are copyrighted by Fox Broadcasting Company or its related entities, which means that, under U.S. law, the only way to use pictures of the show or its characters is under what is known as "the fair use doctrine," which means that limited amounts of copyrighted material may be used to illustrate a commentary or opinion on the subject. That's what the "frame grabs" or "vid(eo) cap(ture)s" are here for; they are recognizable by the Fox logo in the corner. This is not the official "That '70s Show" web site. We just offer up commentaries and on the show and occasional news about the actors and actresses who star in it. However, we also have the permission of Fox Broadcasting to use some of their publicity photos (the ones without the Fox logo); these are still protected by Fox's copyright and should not be downloaded or printed without the expression permission of Fox Broadcasting, which we have. If you want to copy or reproduce those pictures, go to the official web site and ask Fox for permission; we don't own the rights and cannot give them away (despite how much the the Yahoos would like to pretend that we do and that they can just claim them without Fox's permission).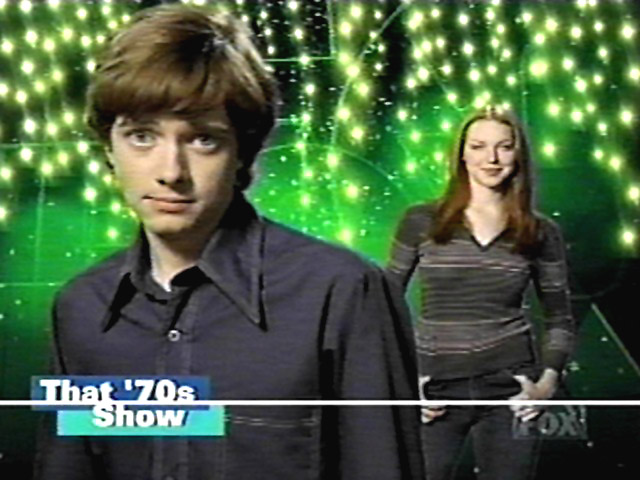 Eric and Donna say:
Click here for the official "That '70s Show" web site.

AN EMMY¨ FOR "THAT '70s SHOW"!
A lot of Emmy¨ award presentations are not broadcast during the live Emmy¨ telecast. One that wasn't was the 1999 victory for "That '70s Show" in the category of "Best Costume Design for a Series."
CONGRATULATIONS!
(Debra Jo, we're rooting for you in 2001!)

TOPHER GRACE -- OSCAR¨ NOMINEE?!
For the benefit of you truly diligent scanners of the lists of the 1999 Academy Award nominees, chrisTOPHER Grace is not the CHRIStopher Grace whose film was nominated in the Best Live Action Short Film category (but did not win); that Christopher Grace is Cymric, and Topher is American. (Topher also seems to be very well liked by the people who do "That '70s Show" -- almost everyone whom we spoke to about him had good things to say.)
WAS AMERICA READY FOR THE KISS?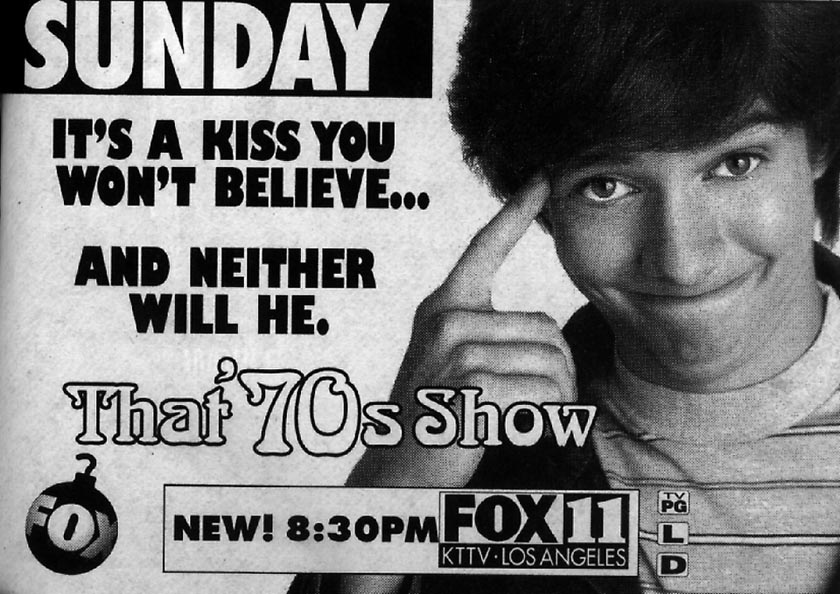 KTTV's TV Guide advertisement for the 6 December 1998 episode.
On 6 December 1998, "That '70s Show" featured a very surprising kiss for Eric (Topher Grace). Was America ready for it? . . . Well, America seemed to love it! The show's ratings had been slipping for several weeks (in week #7 of the Fall TV season, for example, it had 12.8 million viewers; the following week it had 11.7 million viewers, and only 11.4 million viewers tuned in for The Kiss). They must have liked what they saw, though, because the following Sunday, almost 900,000 more people tuned in to see "That '70s Show," giving it ratings that it hasn't seen in over a month. Just another example of Americans not needing government and network censors to think for them!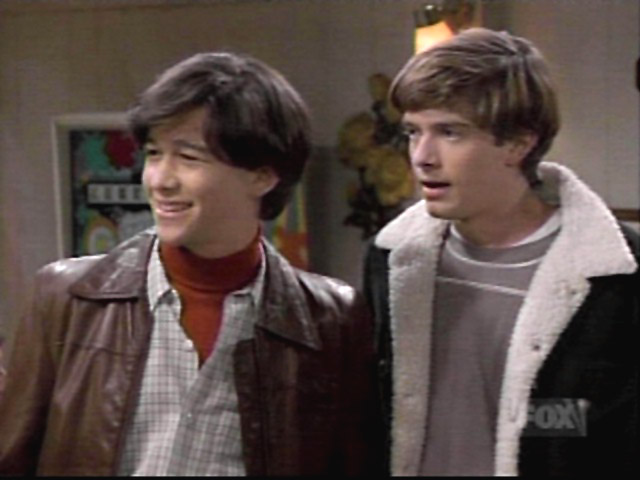 Joseph Gordon-Levitt as "Buddy," Eric's . . . "best friend."
(c) 1998 by Fox Broadcasting Company.
On 23 AUGUST 1999 -- BUDDY RETURNED -- AND WE WUZ ROBBED!
It was only a repeat of Joseph Godron Levitt's first appearance on the show, but he and his "best friend," Eric, were so popular that the show's ratings jumped dramatically in the week following Buddy's first appearance. Will he return in future episodes? We have not been able to find out! HOWEVER, in Los Angeles at least, Fox-TV ripped off the show's viewers. The episode is supposed to end with Eric, Donna and Steve Hyde discussing how attractive Eric's cute little . . . ah . . . you know is, and why Buddy would like it, but Fox cut the scene and replaced it with a commercial for one of their upcoming shows. BOOO!
BRING BACK BUDDY!!!
Will Eric's bud Buddy return? We have been trying to find out for all of you Buddy fans. (And for you Joseph Gordon-Levitt fans, too), but have not heard one word about Buddy returning to "That '70s Show." Trust us, if he does, we will do our best to let you know!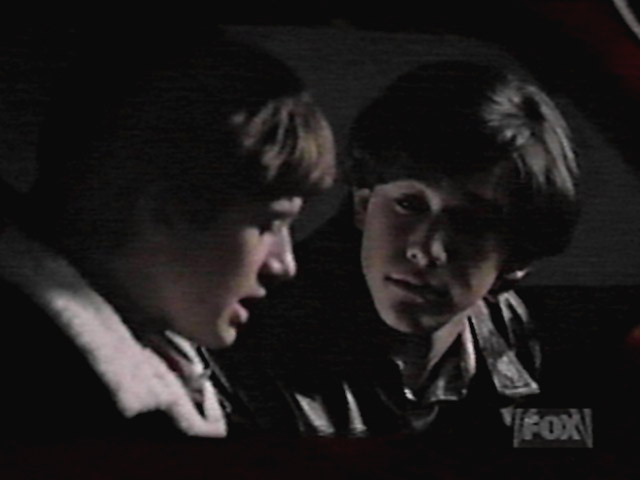 Buddy helped Eric to get over his "confusion" over his relationship with Donna.
(c) 1998 by Fox Broadcasting Company.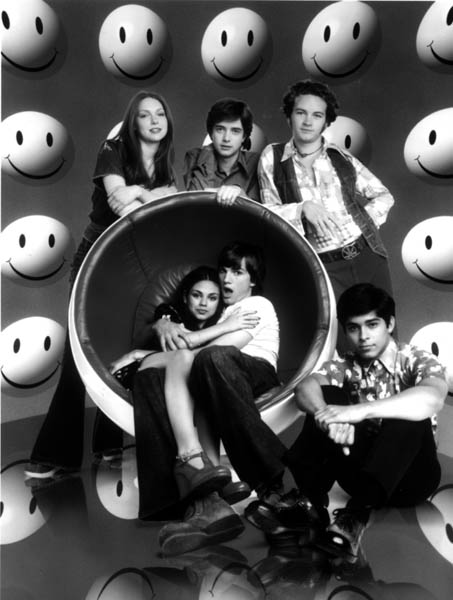 Clockwise from top left: Laura Prepon, Topher Grace, Danny Masterson, Wilmer Valderrama, Ashton Kutcher, and Mila Kunis.
Photo: Michael Lavine/FOX.
Click here for the OFFICIAL Fox "That '70s Show" Web site.
Click here to read an Associated Press story about having lunch with the stars.
Click here to read what Iowa thinks about Cedar Rapids-ite Ashton Kutcher. (Did you know that his first name, like Topher's, is "Christopher"?)
There is an excellent unofficial fan page for "That 70's Show," so we'll confine ourselves to the occasional bit of gossip, some pix, and the Grand Panjandrum's periodic maunderings.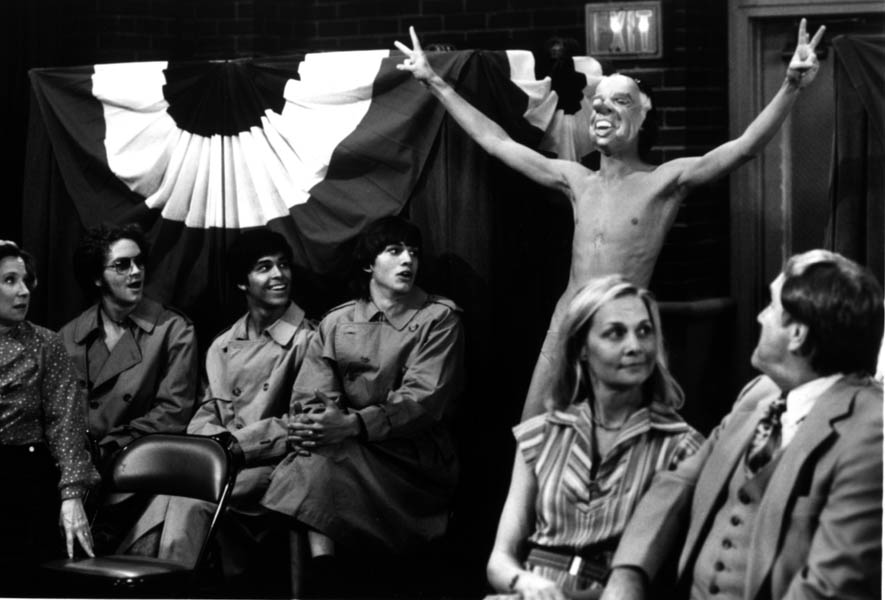 Eric (Topher Grace, in the Dick Nixon mask) expresses his opinions to President Ford. His TV Mom, Debra Jo Rupp, is at the left.
Photo: Michael Lavine/FOX.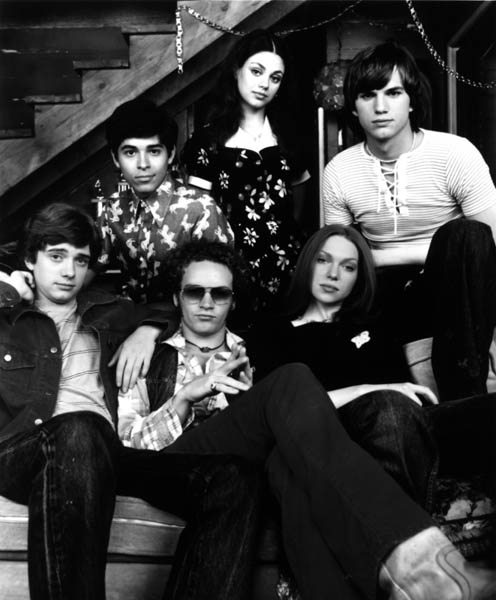 The Young Stars.
Photo: Michael Lavine/FOX.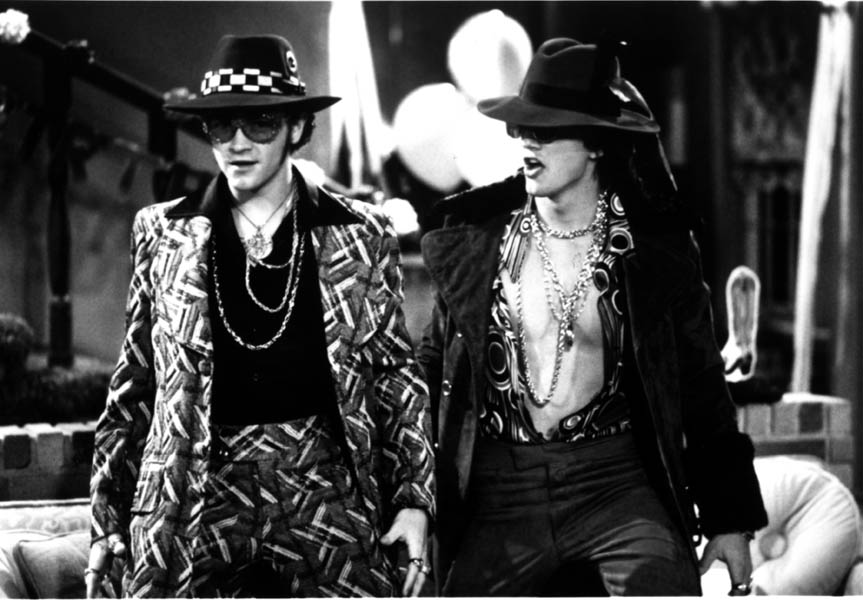 Hyde (Danny Masterson) and Kelso (Ashton Kutcher) get ready for Eric's 17th birthday.
Photo: Michael Lavine/FOX.
Unless otherwise indicated, all photos on this page are (c) 1998, 1999, or 2000 by Fox Broadcasting Company. So don't copy them without their permission, which we have and you probably don't. Link here, instead. Web site (2) 2003 by Jaundiced Eye Productions. All rights reserved.

Sign Our Guestbook
View Our Guestbook