A BEN JORGENSEN MICRO-PAGE!
Updated 19 NOVEMBER 2001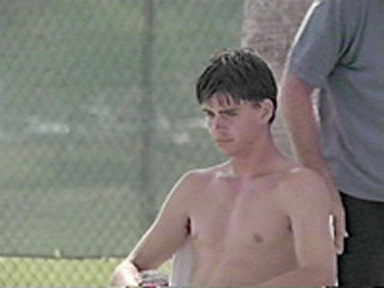 Ben in one of his famous scenes from The Break.
(c)1995 by Autumn Winds Productions, Overseas FilmGroup, Trimark Pictures.
19 NOVEMBER: BEN THE PRODUCER
Ben has let us know that he is in the process of producing a public service announcement for the United Nations / International Labor Organization about "The Elimination of the Worst Forms of Child Labour." The spokesperson will be Christie Clark, who starred as Carrie Brady on "Days of Our Lives," the American Soap Opera. The spot will air internationally. (This is official news from Ben, BTW!)

Whether you first made his acquaintance as Gay teen Kevin Sheffield on "All My Children," or enjoyed him as Chris Hughes on "As the World Turns," or even remember him from The Break, you have probably wanted to know more about Ben Jorgensen. You've seen pictures of him half-naked all over the Internet, now find out something about the real man, who'd rather "play Gay" than play basketball! Well, to be truthful, he WOULD rather play college basketball, but since he sustained an injury which has kept him off his team, he has had great fun playing gay (or possibly Gay) characters. In fact, he told Soap Opera Digest that he liked the idea so much that when he auditioned for the role of "Kevin Sheffield," he deliberately imitated his Gay roommate's mannerisms -- until the producers told him to "butch up the character," which was a disappointment, but not a difficulty for this jock-turned Gay-friendly actor.
AHEM! Ladies, you will have noticed that we refer to Ben as "Gay friendly," not "Gay" -- but he has a girlfriend, thank you very much -- a real one with . . . well you know . . . the real things. But that doesn't mean you can't DREAM about him, boys and girls!

A BEN JORGENSEN MICRO-GALLERY: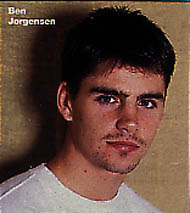 Ben from Soap Opera Digest.
A Primedia Company.

Ben in Soap Opera Weekly.
Another Primedia Company.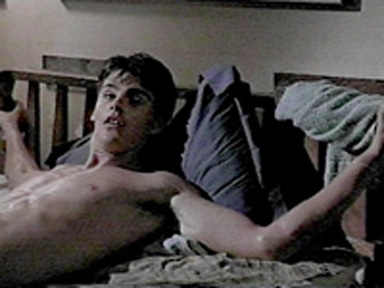 Ben in another famous scene from The Break.
(c)1995 by Autumn Winds Productions, Overseas FilmGroup, Trimark Pictures.
He has noted that it is ironic that in The Break he plays a boy whose father thinks Ben's character is Gay and couldn't deal with it, while on "All My Children," Kevin Sheffield was Gay and his father couldn't handle it -- fortunately, however, his friends could, and his character outlasted most of the other young stars who were hired at about the same thime that he was.

BEN JORGENSEN FACTOIDS:


Ben was born in London, England. His birthday is July 30th.

Ben has told us that before he took up acting, he worked as a film editor. His latest editing project is Secrets Through the Smoke, written and directed by actor Jeremy London. The film is a documentary starring Dr. Jeffrey Wigand, who was the subject of the film The Insider, in which Dr. Wigand was played by Russel Crowe.

Secrets Through the Smoke was produced for the United States Centers for Disease Control (CDC), and is available for free upon request, but you will look in vain for the name "Ben Jorgensen" on the video box. When he works as an editor, he uses the name "Ben Monk," and that is how the CDC credited him on the video package.








Visit The Young Stars Links Page. We like it. You probably will, too.

"SURVEY SAYS . . ."
My Favorite Jaundiced Eye Star

Sign Our Guestbook
View Our Guestbook

O MUSE WITH THE JAUNDICED EYE, TAKE ME HOME!

© 1997, 1998, 1999, 2000, and 2001 by Jaundiced Eye Productions
For a detailed clarification of our copyrights under Title 17 of the United States Code and under the Berne Convention and all national laws giving effect thereto, please click here for an important Legal Notice.