On-Line Review by Christian Leopold Shea:
THE TALENTED MR. RIPLEY
© 1999 by Christian Leopold Shea. All rights reserved.
Directed by Anthony Minghella.
Screenplay adapted by Anthony Minghella from the novel by Patricia Highsmith.
Starring: Matt Damon, Gwyneth Paltrow, Jude Law, Cate Blanchett, Philip Seymour Hoffman, Jack Davenport.
U.S. Distribution: Paramount Pictures. Overseas Distribution: Miramax Pictures.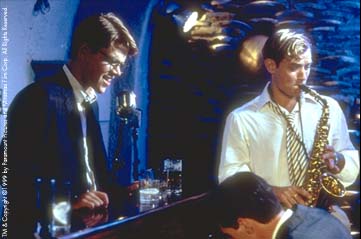 Tom Ripley (Matt Damon) is a "Funny Valentine" for Dickie Greenleaf (Jude Law).
Ironic story: with all of the flak that I have been getting from angst-riddled teeny-boppers distressed at my announcing Ethan Embry's marriage and baby, his White Squallco-star, David Lascher, was sitting in front of me at Paramount Studio's screening of The Talented Mr. Ripley, but his date showed up before I could ask him anything about his former White Squall co-stars Ethan and Jeremy Sisto. (And was that Melissa Joan Hart sitting directly in front of me?) Considering that at the theater door I had to stand in line behind the reviewer for Movieline and just in front of the reviewer for the New York Times, the fact that stars were using their pull to get into the screening shows that "Mr. Ripley" will be a strong contender at the Oscars®. Everybody who is anybody in Hollywood wants to see The Talented Mr. Ripley.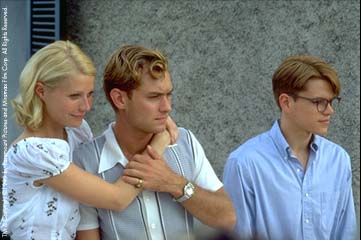 Gwyneth Paltrow, Jude Law, and Matt Damon play Marge, Dickie, and Tom.
With its vigorous advertising campaign in full swing, most people know the story of The Talented Mr. Ripley by now: in 1958, Tom Ripley is sent to Italy by Dickie Greenleaf's father to fetch him back home to take his place in the family ship-building business, but Tom worms his way into the lives of Dickie, his fiancée, Marge, and their friends, and finally begins to impersonate him, spending his money, dating those who think he is Dickie, and even writing letters in Dickie's name. The number of wealthy American jet-setters in 1958 Italy isn't very large, however, and -- despite his best efforts -- Tom is forced to resort to extreme measures to protect his new identity.
Ripley's escapade begins innocently enough: a friend from Princeton University (which Dickie attended) is scheduled to play piano at a recital, but breaks his arm and loans his jacket to Ripley, whose talents include playing the piano. Mistaken as a Princeton graduate by millionaire Herbert Greenleaf (James Rebhorn), Greenleaf assumes that Tom must know his son, Dickie, and offers him an expense-paid trip to Italy -- and a thousand dollars -- to go to a small Italian village and bring back Dickie.
Tom studies Dickie and his hobbies (including jazz, about which Ripley knows nothing), and proceeds to Italy, where he spies on Dickie and Marge before "accidentally" meeting them on a beach -- which provides director-screenwriter Anthony Minghella ample opportunity to show off the physical attributes of his three stars, including Damon's legs, freshly shaved -- along with other parts -- to match Jude Law's).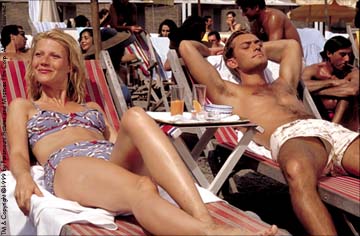 Marge and Dickie (Gwyneth Paltrow, Jude Law) are stalked by Tom at the beach.
Ripley's shy, bumbling innocent routine wins the hearts of Dickie and Marge, and he further endears himself to Dickie by doing a dead-on impersonation of Mr. Greenleaf offering Tom the bribe to bring back Dickie. Mistaking Tom's blunt honesty for integrity, Dickie makes Tom his secret confidant, and begins taking him out to the jazz clubs he frequents (where Damon and Law do their own first-rate singing, incidentally). Gradually, Tom begins to learn Dickie's deepest secrets.
Not all of Dickie's friends are convinced by Tom, though. Freddie Miles (Philip Seymour Hoffman) is organizing a skiing trip for the holidays, and after only a few brief meetings with Tom, he becomes convinced that Ripley is up to no good and dis-invites him, doing his best to separate Ripley from Dickie and his friends.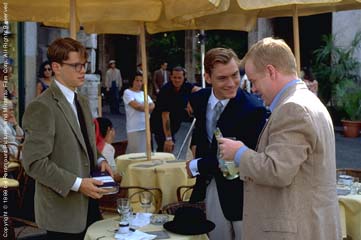 Tom Ripley is introduced by Dickie to the suspicious Freddie (Philip Seymour Hoffman).
Freddie's suspicions, however, once Dickie tells them to Tom, merely serve to fuel Ripley's determination to seize his own place in the wealthy circles in which his new "friends" move. When Dickie finally begins to realize that Tom Ripley isn't telling the whole truth about himself and his reasons for staying in Italy, he plans one last fling for the two of them at the famous San Remo Jazz Festival, and then prepares to cut Ripley from his life, announcing that he intends to go on the ski trip without him.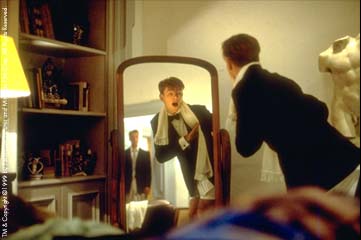 Tom Ripley shows his hand prematurely to Dickie.
The movie shifts into high Hitchcockian and Highsmith gear at this point, and Tom Ripley, who can now imitate Dickie Greenleaf's voice, his signature, his mannerisms, and his style, starts to embezzle Dickie's money, racing against Dickie's increasingly suspicious family and friends, and . . . finally . . . the police. Along the way, he again crosses paths with Meredith, whom he had casually met when he first arrived in Italy; having already, almost as a joke, identified himself to her as Dickie Greenleaf, he must now assume Dickie's identity whenever he is with her, only to discover, to his horror, that she is part of Dickie and Marge's social circle, and that to date her is to constantly risk exposure as an impostor.
When things become too hot for Ripley in Rome, he joins Marge and Dickie's friend Peter, who has always had a certain . . . fondness . . . for him, in Venice, and even Marge, confused by the conflicting messages which she has received from Dickie and Tom, join them. Marge, however, is followed by Dickie's father and an American private investigator determined to question Tom about the mysteries which have begun to spring up around Dickie.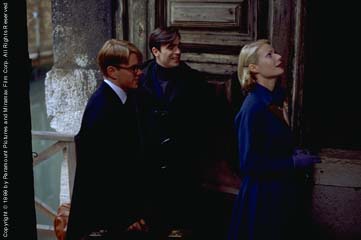 Tom, Marge, and their friend Peter (Jack Davenport) check out Tom's new home.
The Talented Mr. Ripley is easily the best 'Hitchcock' movie since Hitchcock, and Anthony Minghella's adaption of Patricia Highsmith's novel moves him to the front of the pack in the Oscar® race for the Best Adapted Screenplay. Typical of both Highsmith and Hitchcock, we, the audience, know what is happening, even if the characters on screen are blissfully unaware of the doom which lurks around every corner. Also typical of Highsmith and Hitchcock, it is not until the final shocking minutes of The Talented Mr. Ripley that the tangled web of deceit, fraud and violence reaches its unguessable -- and open-ended -- climax.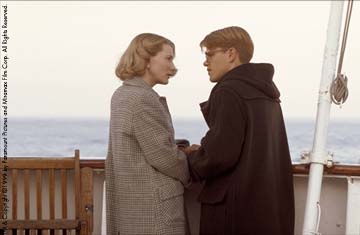 Tom and Meredith (Cate Blanchett) have an unexpected . . . and ultimately shocking encounter.
Having already predicted that American Beauty would be an Oscar® nominee for Best Picture, Best Original Screenplay (Allan Ball), and Best Actor (Kevin Spacey), this reviewer notes that it has received six Golden Globe® nominations; The Talented Mr. Ripley, which hasn't even opened in theaters yet, has received five: Best Dramatic Picture, Best Dramatic Actor (Damon), Best Supporting Actor (Law), Best Director (Minghella), and Best Original Score (Gabriel Yared).
Considering that for the Academy Awards, both films will be up against Being John Malkovich, The Red Violin (strangely counted as a Foreign Film nominee for the Golden Globes®), Notting Hill, and such character-driven films as Election (Reese Witherspoon, Golden Globe® Comedy Best Actress nominee), Boys Don't Cry (Hillary Swank and Chloë Sevigny nominated for Best Dramatic Actress and Supporting Actress, respectively), The Sixth Sense (with star Haley joel Osment demoted to a Best Supporting Actor nominee), and such -- so far -- unpredictable wild cards as The Green Mile, The Cider House Rules, All About My Mother, and critical favorite The Man in the Moon, Oscar-cast 2000 promises to be an exciting competition. If the Academy gives nominations to films and performers who won't have huge publicity machines behind them (for example, Get Real for Best Adapted Screenplay or LL Cool J for Best Supporting Actor for Deep Blue Sea), it should be a real edge-of-the-seat nail-biter for a lot of people in the motion picture industry.
It may turn out that Jude Law, who has been under-rated by critics and audiences alike for several years, despite strong supporting performances in many popular films, may be shunted aside during the Oscar® nominations, particularly due to Osment's demotion to Supporting Actor and Alec Baldwin's masterful performance in Outside Providence; there are only five slots open for nominees, and eight or more strong candidates for that particular Oscar®. One can only hope that if he does not receive a nomination for The Talented Mr. Ripley, Jude law will receive one soon for some other film, because Jude Law has earned an Oscar® nomination. (This is by no means meant as a slight to Damon, because I will state unhesitatingly that Matt Damon has earned an Oscar® nomination for The Talented Mr. Ripley. He may well receive it, too.)
ADVISORIES: MPAA rated "R" (no one under 17 admitted without adult parent or guardian) for nudity, violence, and adult situations. There is considerable smoking and drinking by actors often considered role models by young people.
With the rise in theater ticket prices and the growing international audience of our page, our old NW2: Not Worth $2 to W8: Worth $8 rating scale has become less useful than previously, so, in line with the scale used by the Internet Movie Database (IMDb) we have adopted a scale of 1 star to 10 stars, with "1 Star" being a VERY bad movie, and "10 Stars" being a movie classic. Our On-Line Reviewer, however, has gone where IMDb has never gone before: he has added a score of Zero for those movies which are so bad that they are not even good "camp" -- movies so bad that not even "Mystery Science Theater 3000" could could make them worth watching.
On this scale, anything rated "7 Stars" or above is worth the cost of a theater ticket, "8 Stars" is worth standing in line to buy a ticket, "9 Stars" is worth standing in line in a driving rain rainstorm or killer heatwave (or, in Los Angeles, gale force winds) to buy a ticket, and "10 Stars" is a movie worth driving hundreds of miles to go see -- at least in Dr. Shea's own opinion. Accordingly,

The Talented Mr. Ripley is a 9 Star movie.
Go see it!
Sign My Guestbook
View My Guestbook
O MUSE WITH THE JAUNDICED EYE, TAKE ME HOME!