On-Line Review by Christian Leopold Shea:
SPEEDWAY JUNKY
© 1999 and 2001 by Christian Leopold Shea. All rights reserved.
(This review was originally posted on our original Geocities homestead in 1999, but, following the agressively hostile take-over of Geocities by the Yahoo!kaza, we were unable to make any updates to the site. Now that Speedway Junky is headed for theatrical release, expect regular updates on Speedway Junky news here on our Tripod site and maybe some excellent guest reviews of the film. Maybe -- I have yet to hear a convincing argument to share my by-line and paycheck!)
EuroSeek™ has made it official:
The Jaundiced Eye web site is the 32nd most popular CoolSite in the world!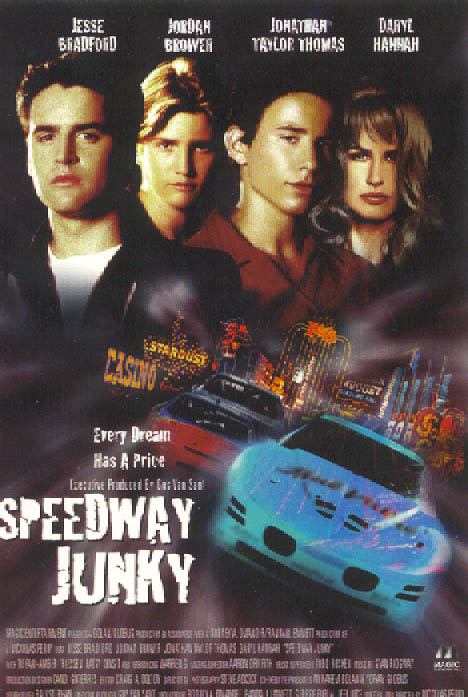 >
Speedway Junky (also known as Speedway Junkie.)
Written and Directed by Nickolas Perry.
Executive Producer: Gus Van Sant.
Produced by Rodney A. Omanoff, Randall Emmett, George Furla, and Jeff Rice.
Director of Photography: Steven Adcock.
Starring: Jesse Bradford, Jordan Brower, Jonathan Taylor Thomas, Daryl Hannah, Tiffani-Amber Thiessen, Patsy Kensit, Erik Alexander Gavica, Justin Urich, and Warren G.
Not yet MPAA rated. (It will probably get an "R.")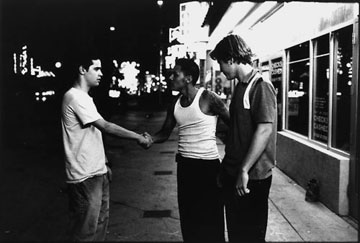 Jesse Bradford, Erik Alexander Gavica, and Jordan Brower on the street in Speedway Junky.
© 1999 by Speedway Junky, Inc. All rights reserved.
Courtesy of Regent Entertainment.
THE ORIGINAL 1999 REVIEW:
Here's the story in a nutshell: young Johnny (Jesse Bradford) wants to go to North Carolina so that he can join a NASCAR racing team; instead, he gets stuck in Las Vegas. Eric (Jordan Brower), a Gay hustler, takes pity on Johnny and takes him under his wing when Johnny proves incapable of surviving even a single day on the mean streets of Las Vegas.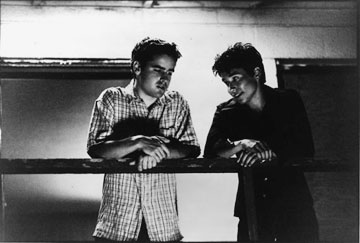 Jesse Bradford and Jonathan Taylor Thomas in Speedway Junky.
© 1999 by Speedway Junky, Inc. All rights reserved.
Courtesy of Regent Entertainment.
On those streets, Steven (Jonathan Taylor Thomas) is the kid to whom all of the other kids look. Steven is a "buy-sexual" hustler -- anyone who buys him may have sex with him. Johnny, however, is revolted by the Gay aspects of Eric and Steven's lives, and freaks out when Eric tries to kiss him, so he insists on trying to make a go of it alone. Needless to say, he promptly gets his ass kicked -- through a plate glass window. Eric offers Johnny the mattress in the Spartan room which he calls home, but his caring feelings have gradually given way to love for Johnny.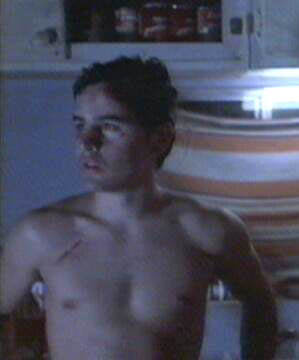 Johnny (Jesse Bradford) discovers just how crazy Las Vegas really is.
© 1999 by Speedway Junky, Inc. All rights reserved.
Courtesy of Regent Entertainment.
Eventually, Johnny and Eric make up, and Jordan Brower delivers what is easily the strongest scene in the film when he breaks down after having left Johnny with a woman who can show him the ropes of heterosex. Brower's performance generally reminded me of a young Nicholas Cage, but Eric's moment of greatest heartbreak, in which he makes this supreme sacrifice for Johnny, going through what amounts to a junky's withdrawl (not from drugs, but from the man he loves) was very strongly reminiscent of Jack Lemmon's going berserk while looking for a bottle of liquor in Days of Wine and Roses.
Other notable performances are Daryl Hannah's as Veronica, an ex-prostitute friend of Eric's, Tiffani-Amber Thiessen who plays Wilma, the woman who proves to be nothing but trouble for Johnny, Justin Urich as car thief Scooby, and Erik Alexander Gavica as J.T.
Daryl Hannah in Speedway Junky.
© 1999 by Speedway Junky, Inc. All rights reserved.
Courtesy of Regent Entertainment.
What is refreshing about the supporting roles is that Nickolas Perry tried to make these characters realstic: there is no "reformed hooker with the heart of gold" attitude about Veronica: Eric's pleas for help for Johnny are a nuisance to her, and she complies only out of memory of Eric's mother, who was a friend of hers; Wilma isn't some sex-starved vamp, she's just a woman who has found herself in a truly bizarre circumstance; Scooby isn't some idealized street urchin, he's simply a street punk who steals for thrills -- until Johnny gives him a thrill he'll never forget; J.T. isn't some stereotypical Chicano gangster, he's just a hood like so many of the other street kids, but one who has the misfortune to be arrested by the police, who only "roust" the Anglo kids when they are going about their "business."
What is disappointing about Speedway Junky is that Perry, as a first time feature film director, seemed unsure of himself in a film of this size, and wasn't fully aware of just how far he could really push his talented cast. Perry has previously made a name for himself with such short films as the acclaimed Must Be the Music, and short films are usually done on a far more intimate scale than a feature like Speedway Junky. If Perry had demanded more, I think that every performer in the film would have delivered even more than they did. (Of course, who was to know, based on his earlier television work, that someone like Jordan Brower could actually act?! If his breakdown had been the first scene filmed, I'm sure Perry would have pushed everyone for 110% -- and they would have delivered.)
One sign of just how important those working on the film thought it was is that all of the cast members worked for the same low union pay scale, and some cast and crew members deferred their pay so that the movie wouldn't be delayed while the producers scrambled to raise the money to pay the big-money stars and the crew. Despite that, the cast and crew worked a 24 day shoot in Los Angeles and Las Vegas, with so much night filming that for many days producer Randall Emmett says he never even saw the sun. (Which is typical of Las Vegas, though!)
Tiffani-Amber Thiessen plays Wilma, who has a slight . . . problem . . . in Speedway Junky.
© 1999 by Speedway Junky, Inc. All rights reserved.
Courtesy of Regent Entertainment.

SPEEDWAY JUNKY -- THE VIEW FROM 2001
What a difference two years makes! Watching Speedway Junky again after two years made me realize even more deeply why I was so "gung-ho" for it in 1999. It really is a powerful film, with subtle touches of wit that are best appreciated on a second viewing.
One of the ironies of why Speedway Junky has been sitting on the shelf for so long is that film distributors wanted "bigger stars" in it way back in the last century. For studio-types with their eyes on the bottom line, the mere fact that Speedway Junky was a good film, well-written, well-directed, and well-acted meant nothing: by 1999 the stars of the little independent pictures who had made names for themselves on the festival circuit and in art houses were doing 100 megabuck films not worth a donkey's doo-doo artistically, but capable of bringing in the bucks from every rube from Kazakhstan to Kansas (pace, Ben and Billy Bob). The studios, the theater chains, and the distributors wanted to get their hands on inexpensive little movies with the same big name stars who had made the little indie films of the early and mid-1990's into Oscar(TM) goldmines; it seems not to have occurred to any of them that once an actor or actress who became famous doing inexpensive independent films started to collect paychecks bigger than the entire budgets for the films which they had done a few years previously, that they were not going to be in "cheap art house films" anymore -- their mere presence guaranteed that whatever they appeared in would be expensive! Logic, however, has never been a strong point in the artistic decision-making processes of Hollywood.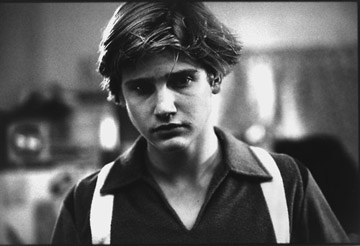 Jordan Brower plays Johnny's friend Eric in Speedway Junky
© 1999 by Speedway Junky, Inc. All rights reserved.
Courtesy of Regent Entertainment.
SO! There sat Speedway Junky, a marvelous little film which everyone wanted to buy, provided that they could have it at a low price, and provided it could be filmed (or even re-shot, if necessary) with actors and actresses who were now pulling down million-dollar paychecks. Right. Sure. Uh-hunh. In 1994 Matt Damon and Ben Affleck probably would have agreed to star in it for a hundred bucks each and free room and board for a month, except that in 1994 the film hadn't been written yet, and if it had been, the same people who looked down their noses at the cast of Speedway Junky in 1999 regarded Damon and Affleck in 1994 as box office nobodies who couldn't bring in the big bucks. So, for two years, this reviewer tried to deal with inquiries from people around the world (literally, folks!) asking when Speedway Junky was finally going to be released. Finally, Regent Entertainment has come along as the film's deliverer from theatrical limbo, and it is being released, albeit in very few theaters.
Two years on, in 2001, the stars of Speedway Junky aren't "nobodies" anymore: Patsy Kensit , who plays "Donna," the hungry-eyed temptress who finally hooks up with Johnny, (and who was never a nobody, at least not since she appeared in The Great Gatsby) starred in Lethal Weapon 2; Erik Alexander Gavica, who plays the vicious hoodlum "J.T." will be appearing in the Fall 2001 season Premiere of "Boston Public;" Justin Urich, who plays car thief and amateur music critic "Scooby," after a string of guest spots on everything from "Silk Stalkings" to "Buffy, the Vampire Slayer," to "The West Wing," appears in the Jersey Pictures/Universal release How High, which was recently moved up from a 2002 release date to this December 26th, putting it into 2001 Oscar(TM) contention; Warren G, who plays "Brentley Shaw," is a celebrated rapper; Daryl Hannah has since won a Jury Prize at the Berlin Film Festival for The Last Supper, which she wrote, directed, and produced, and will star in Lion's Gate's October 19th release, Dancing at the Blue Iguana, from the acclaimed director of Il Postino, Michael Radford; Tiffani-Amber Thiessen is currently in New York, where she is working with Tea Leoni and "Will and Grace" star Deborah Messing in Woody Allen's latest film; Jonathan Taylor Thomas, proving that he is more than "Randy Taylor," has starred in the underground indie faves I Woke Up Early the Day I Died and Walking Across Egypt; Jordan Brower has done a crime drama opposite former Best Supporting Actor nominee Dennis Hopper (an independent film star if ever there was one!), and, in Miramax's upcoming Texas Rangers, he will play the brother of a young actor who had a grand total of one starring film role behind him (the bully in Angus) when Kevin Williamson took a chance on him and cast him as Dawson Leery in "Dawson's Creek," which has launched James Van Der Beek on the road to stardom.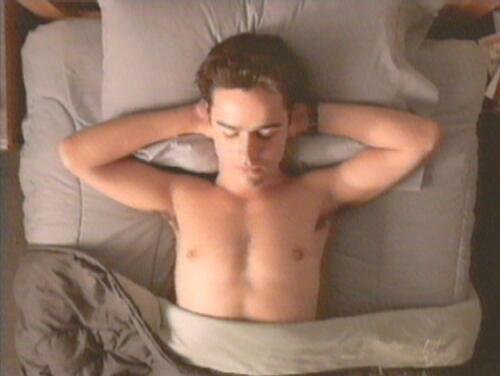 Jesse prepares to savor breakfast in bed. . . .
© 1999 by Speedway Junky, Inc. All rights reserved.
Courtesy of Regent Entertainment.
And what of Jesse Bradford, who stars as "Johnny" in Speedway Junky? After appearing as the male lead in Universal's surprise comedy hit Bring It On, he has finished Spencer, opposite Adam Goldberg; the Paramount Pictures/Nickelodeon film Clockstoppers, directed by Jonathan Frakes; and is currently working on SwimFan85, co-starring Erica Christensen and Shirri Appleby, which is being directed by John Polson.
(For regular visitors to the Jaundiced Eye web site, it may be of interest to note that Speedway Junky Director of Photography Steven Adcock is no stranger to having his films sit on the shelf for years: despite having worked on The Hunt for Red October, Thelma & Louise, and Basic Instinct, Adcock was the Director of Photography for a long-delayed little film called Don's Plum, starring Leonardo DiCaprio, Tobey Maguire, Kevin Connolly, Amber Benson, Jeremy Sisto, Marissa Ribissi, etc.!)



                        Believe in love at first sight?
                                          Eric's first words to Johnny.                       




Seen again, in 20-20 hindsight, with much of this year's movies behind us already, Speedway Junky is more than just a good little film, it is far more impressive than most of 2001's big-budget releases. Not ten days ago I was discussing the relative merits of this year's potential Best Supporting Actress nominees with the conversation centering around the character of "Marie," who plays Nicole Kidman's dresser in Moulin Rouge, and the girl who plays Nicole Kidman's daughter in The Others. With the exception of Ann Magnuson, from The Caveman's Valentine, there has so far been a dearth of actresses to choose from. Any performances given by the bevy of nurses in Pearl Harbor were blown out out of the water by the artistic decision to replace acting in the movie with lots and lots of loud explosions and computer-generated effects. With the exception of a few strong leading roles for women, most of this year's supporting work by actresses was shunted aside in favor of special effects and more screen time for male leads who are big draws at the box office. Seen against this backdrop, I commend Daryl Hannah's performance as "Veronica" to the attention of those casting awards ballots. Both powerful and tender, Daryl Hannah's performance is terrific.
Jordan Brower gives a poignant performance as Johnny's friend Eric, a luckless street kid who, about to turn 18 (and finally be eligible for time in County Jail if he is ever arrested for any of his petty crimes), finally finds a true friend in Johnny, only to face the dark reality behind the cliche, "If you love something, set it free, if it comes back to you, it is yours, if it doesn't, it never belonged to you." Brower's most powerful scene, the one which still reminds me of Jack Lemmons' anguish in Days of Wine and Roses suffers, unfortunately, from being too heavily intercut with scenes of what Johnny is doing while Eric is devoured with grief and despair. If Brower had only twenty or so more seconds of screen time in that scene, there would be no doubt in anyone's mind about Brower's talent, but without those few extra seconds, Brower's fate at awards time must hinge upon the rest of his work in the movie, which, although excellent, is, because of the constraints of the role itself, nuanced and restrained throughout -- which is not the sort of thing most awards voters look for, especially those in the Motion Picture Academy. On the brighter side for Brower, with three very strong contenders for Best Supporting Actor coming from Moulin Rouge, nominating votes for them may cancel each other out and Brower has a very, very slim chance to slip through the cracks and score a nomination for his performance. Personally, though, I wouldn't urge him to hold his breath for any major awards -- not this year, at least.
Bradford's earnest, sincere, trusting (but corruptible) "Johnny" carries Speedway Junky, and he appears in almost every scene. Nevertheless, Bradford reminds me of "Thursday's child" in the popular rhyme about children's birthdays: he has "far to go;" not to become a good actor -- he has been one for years already -- but to reach the true limits of his talents. Having seen most of Bradford's work to date, I can well imagine what he is capable of doing, and I anxiously await the day when I can point to a film of his and say, "See?! That's what I've talking about for years!"
I remember seeing (long and long ago) a 13-year-old kid appear on an ABC show called "A New Kind of Family," and suddenly thinking, "He's going to be a big star someday;" ABC cancelled the series after one season, but soon I'll see whether that boy, a grown-up Rob Lowe, will bag an Emmy® for his work on "The West Wing." I also remember a 12-year-old fellow singing and dancing and acting wonderfully as "Guthrie McFadden" on CBS's one-season series "Seven Brides for Seven Brothers" and thinking that he, too, would become a major star; young River Phoenix, however, never lived long enough to collect the honors he so well deserved. I don't know if Jesse Bradford will ever score a major acting award, but I suspect that if hasn't won big in a decade or so, people will be wondering why not? Jesse Bradford is destined to become a powerful actor. So sez I.

With the rise in theater ticket prices and the growing international audience of our page, our old NW2: Not Worth $2 (U. S. dollars) to W8: Worth $8 rating scale has become less useful than previously, so, in line with the scale used by the Internet Movie Database (IMDb) we have adopted a scale of 1 star to 10 stars, with "1 Star" being a VERY bad movie, and "10 Stars" being a movie classic. Our On-Line Reviewer, however, has gone where IMDb has never gone before: he has added a score of Zero for those movies which are so bad that they are not even good "camp" -- movies so bad that not even "Mystery Science Theater 3000" could could make them worth watching.
On this scale, anything rated "7 Stars" or above is definitely worth the cost of a theater ticket, "8 Stars" is worth standing in line to buy a ticket, "9 Stars" is worth standing in line in a driving rain rainstorm or severe heatwave or moderate windstorm to buy a ticket, and "10 Stars" is a movie worth driving hundreds of miles to go see -- at least in Dr. Shea's own opinion. Accordingly,

SPEEDWAY JUNKY is an 8 Star movie.
Go see it!

While you are waiting for the movie to come to your town, you may visit fan pages for stars Jesse Bradford and Jordan Brower.

Sign Our Guestbook
View Our Guestbook
By the way, for those of you who are unclear on the concept, Ryan Phillippe, Jesse Bradford, Jordan Brower, JTT, the two Mastersons (Christopher and Danny), the three Bens (Affleck, Jorgensen, and Silverstone), and most of the other stars whom we feature have no official connection with our web sites (unless we specifically indicate otherwise). Signing our Guestbook with "Private" messages to them is pointless -- "Private" messages are password-protected, and we servants of the Muse With the Jaundiced Eye are the only ones who are reading your private love notes to the stars. If you are hoping that your fave will read your love note (and occasionally a star will drop by here to take a peek), you must leave your message in the usual fashion if you want him/her/it/them to read it.

GOSH, WORD GETS AROUND FAST ON THE INTERNET!
ThisSpeedway Junky review is already listed as a Fansite.com site for:
JORDAN BROWER:
FOR JONATHAN TAYLOR THOMAS:
AND FOR JESSE BRADFORD:
CLICK ON EACH OF THE THREE BOXES TO FIND OTHER LINKS TO THESE STARS.


GETTING SPEEDWAY JUNKY TICKETS --
AT LAST! After two years of struggles, Speedway Junky is finally getting a theatrical release!
On AUGUST 31, 2001, Speedway Junky will take a bow at the Showcase Theatre, 614 N La Brea Ave., Los Angeles, CA 90036. Phone: 323-934-2944. Check with the theater for showtimes and to see if advance tickets are available.
In September, Speedway Junky will open in Texas, and will open in other parts of the country later in the year.