A TAYLOR EMERSON MICRO-PAGE!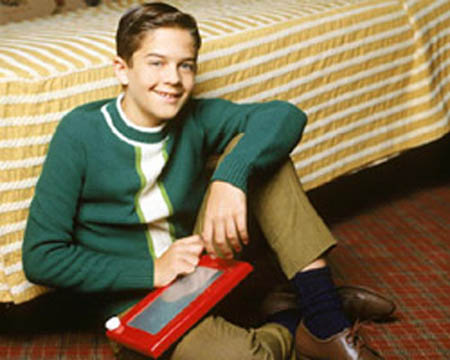 >
Taylor Emerson in "Oliver Beene."
©2004 Twentieth Century Fox Film Corporation
Courtesy of Fox Television.
8 March 2004: We searched high, we searched low. We searched the whole World Wide Web, but we couldn't find a single fan page for Taylor Emerson, who plays Michael on the Fox TV series "Oliver Beene." So we created one of our special "Micro-pages" for him, until he gets his own official web site.
Please note that this is not an official web site for Taylor Emerson. We don't know Taylor, and we can't give him any personal messages from you. Our Micro-Pages are just small tributes which we create for future super-stars and for current stars who have just not received the recognition which they deserve. People like Taylor!
TAYLOR'S BIRTHDAY: was 13 December 1989. He was born in Burbank, California.
TAYLOR'S FIRST "BIG" PROFESSIONAL ROLE: "Ronnie" in the "3rd Rock from the Sun" episode "The Tooth Harry," first broadcast on 20 May 1998.
TAYLOR'S MOVIE ROLES: Taylor played a "Junior Lamb" in Simon Birch (1998). He was in the television movie Geppetto (2000), he played "Widdy Lowry" in The Retrievers (2001), currently playing on the Animal Planet television network, and he was "Danny" in Dinner with Friends (2001).
TAYLOR ON "THE AMANDA SHOW": Taylor played Preston Taynt in 2001 on the show-within-a-show, "Moody's Point," and was the little brother of Amanda's Number One Fan. Re-edited versions of "The Amanda Show" are currently seen on the Nickleodon cable television network.

"MICHAEL"
Taylor is most famous, however, for his current role, Michael on Fox's 1962 era sitcom, "Oliver Beene," now in it's second season. Michael is a 12 year old boy who has a "fabulous" wardrobe, loves to dance, loves to shop, loves Judy Garland, loves his little dog, loves making over Oliver's hunky jock brother (played by Andrew Lawrence), and loves ... well, let's just say that in a few decades Michael will be loving his husband, their house, their dog, and their (adoptive) kids. Michael doesn't know it yet, but he's Gay!
The producers were originally worried that Michael would be perceived as a negative and offensive stereotype by Gays, but everyone seems to have taken Taylor's portrayal of Michael to heart, and thanks largely to Taylor, the show has actually been nominated for a GLAAD (Gay and Lesbian Alliance Against Defamation) Award, opposite perpetual heavy-hitter "Will and Grace."
"Oliver Beene" is not a high ratings winner, but we have seen nothing but strongly positive reviews from every critic whose review we've checked.
TAYLOR'S MINI-BIO FROM THE FOX "OLIVER BEENE" SITE: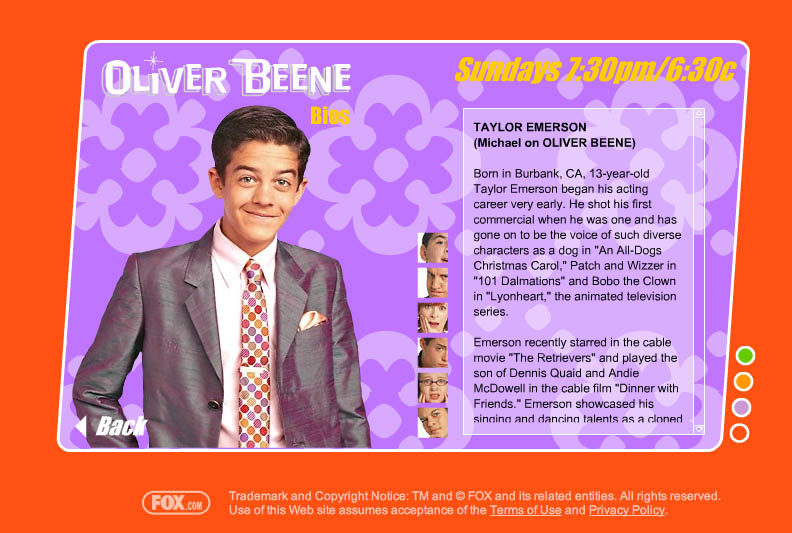 >
Taylor Emerson in "Oliver Beene."
©2004 Twentieth Century Fox Film Corporation
Courtesy of Fox Television.
(This a picture, not a link -- the "back" button only works when on you're on the Fox web page.)

COMING SOON: PICTURES OF TAYLOR FROM THE LOST RETRIEVERS, "THE AMANDA SHOW," AND MORE!

All contents, format, design and layout ©2004 by Jaundiced Eye Productions except where indicated. All rights reserved.
None of the products advertised here are endorsed by us.

Sign Our Guestbook
View Our Guestbook
NOTE: This is a Guest Book for the whole Jaundiced Eye site. It is read by our staff. Taylor cannot read "Private" message, so please don't leave them for him. We don't know taylor and have no way of delivering private messages to him.