THE FIRST BRECKIN MEYER FAN PAGE
Updated: 26 MARCH 2003

Click to search CelebSites.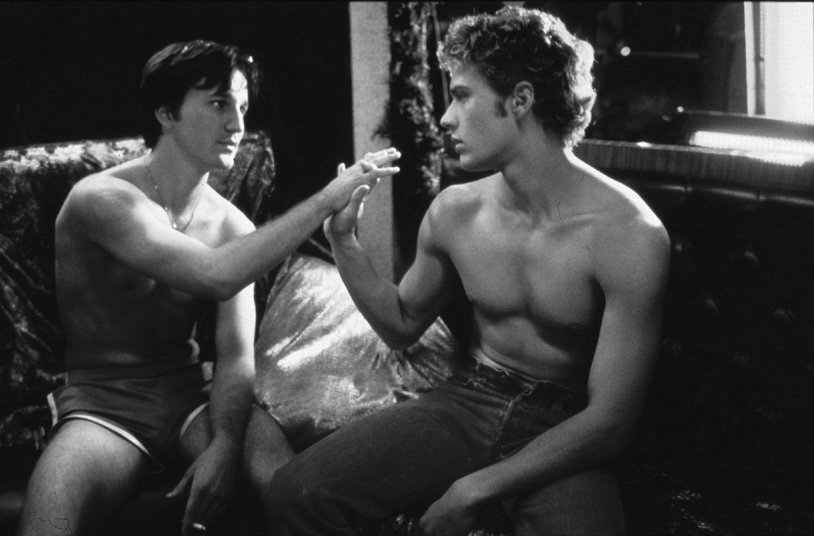 Breckin and Ryan prepare for an extremely intimate moment in 54
© by Miramax Films.
Yes, yes . . . "Inside Schwartz" pictures . . . .
We know, we know. . . . Cut us a little slack, we'll get some pictures of Breckin's funny show up here eventually.
BRECKIN WITH JAY LENO -- OCTOBER 8, 2001
Sweet li'l Breckin let himself in for another unmerciful ribbing from Jay Leno as Breckin discussed his Las Vegas bachelor party with Jay.
HUH? "Bachelor party"?!?!
Yep, bachelor party. Breckin is getting married on October 14th, and last weekend he had his bachelor party in Vegas with a few friends. (He didn't say who, exactly, but we can guess at a couple of the participants in the decadent whirlwind of . . . Playstation 2.)
Yeah, you read that, right, too. Breckin claims that he and his buds actually brought along a Playstation 2 with them to their swinging out-of-town bachelor party. It was so swinging, in fact, that Breckin couldn't figure out why the bachelor party room had nine comfy seats situated in a circle around a hole in the floor. (Call to front desk -- "Look in the closet.") They looked in the closet. They found a pole. (Call to front desk -- "The pole goes in the hole." "Why?" "It's for the entertainment." "Oh.")
Presumably, the girls at the strip club the guys went to showed Breckin and the guys what the pole was actually for (as if they didn't really know!). Which strip club did they "go" to? Why, the one which Breckin went to for Rat Race. Breckin claims that he was embarassed by all of the dancers greeting him as he and his friends walked in. (Of course, Breckin also claims that he was an unpopular geek in school, so who's going to believe anything he says, right?)
BRECKIN WITH JAY LENO:
According to our "TV GUIDE," Breckin will be on "The Tonight Show" on August 2nd, 2001. Check your local listings to verify the date and time. We're pretty sure that he will be promoting his upcoming NBC series, "Inside Schwartz" -- or maybe his new film, Rat Race, in which he co-stars with his longtime friend, Seth Green.
A BIT ABOUT BRECKIN
Breckin's birthday was 7 May 1974; he was born in Minneapolis, Minnesota.
Breckin went to elementary school with Drew Barrymore, who introduced Breckin to her agent, which led to him doing some commercials. Breckin was the drummer in the Streetwalking Cheetahs and started his own band, Bellyroom, with Seth Green and Alex Martin, but he currently doesn't play in any band. He is currently dating Deborah Kaplan, who wrote and directed "Can't Hardly Wait." Breckin's hobbies include playing drums, video games, and sometimes sports. He spends most his free time with Deborah, and also with friends Seth and best friend, Ryan Phillippe.
BRECKIN AND RYAN TRIVIA: Breckin met Ryan Phillippe after they had left an audition. Breckin found him at a bus stop and offered him a ride. According to Ryan, Breckin took him to met Seth Green and said, "He followed me home, can I keep him?"
BRECKIN'S ROAD TRIP
We now have a link to Breckin's film, Road Trip, which also stars Fred Ward (whom you may remember from the C. Thomas Howell flick Secret Admirer and from one of our favorite science fiction/horror comedies, Tremors, as well from Dangerous Beauty), Anthony Rapp (Adventures in Babysitting and the Broadway production of Rent), and Ethan Suplee (of "Boy Meets World," Dogma and Don's Plum), among many other performers in whom our readers might be interested.
COMING SOON! A REVIEW OF "THE REEL 54"
We had very great expectations of Mark Christopher's film about the great '70s disco, Studio 54, but then Miramax's corporate parent, The Walt Disney Company, allegedly had a major hissy fit over it and they proceeded to re-film and re-edit much of the movie, producing a horrible mish-mash that prompted our On-Line Reviewer to ask, "Studio 54, Where Are You?" Well, a quick peek at the Internet Movie Database listing for what we call "Walt Disney's 54" shows that there are MANY different cuts of this film, with different running times and different ratings, and all of them presumably as awful as the version released in the United States. Well, someone managed to go through all of that footage and tried to re-assemble what is purportedly "the Director's Cut" of 54, or at least a rough cut that is close to Mark Christopher's original vision for the film, and we were privileged to see it, and our On-Line Reviewer is going to review it here, on Tripod, in a separate and distinct review from his previously published review of "Walt Disney's 54."
(Actually, he already wrote it, but someone accidently deleted the whole file one fine morning at 3:00 A.M. and he is going to have to re-write the whole thing. What we can tell you, based upon his semi-coherent screaming, is that Breckin Meyer really is the closest thing to "a good guy" in what we call "The Reel 54," and that the only actor in the whole film who benefitted professionally from "Walt Disney's 54" was Mike Meyers, whose characterization of 54's owner, Steve Rubell, was greatly expanded -- at the expense of the original stars, Ryan Phillippe,, Breckin, and Salma Hayek.)