Rest in Peace:
CHRISTOPHER PETTIET
12 February 1976 to 12 April 2000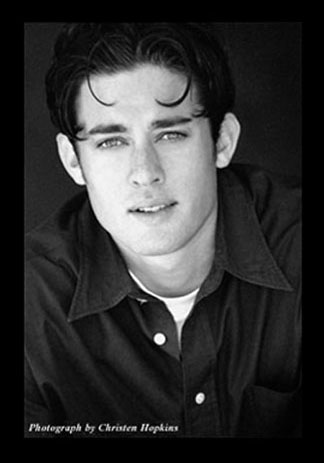 "Carpe diem, quan minimum credula postero."




("Seize the day, put no trust in tomorrow.")


                                                   Horace


HOLLYWOOD, CA (30 May 2000) -- The sad task of writing an obituary for any of the stars whom we "know, love, or admire" here at the Jaundiced Eye is not one for which people ordinarily volunteer, but I felt it appropriate that I, as the film and television reviewer, should make the effort to say what many are feeling as news has reached us of the untimely and tragic death of Christopher Pettiet on April 12th, just two months after his 24th birthday.
Although I am notorious throughout North America as the Jaundiced Eye's "autograph coyote," Christopher's was one autograph I had tried only once (and that unsuccessfully) to obtain. Not that he was one one of those stuck-up types who refused to sign autographs. On the contrary, just three brief days ago I was visiting the home of a friend and saw a handsome autographed picture of Christopher on the wall. My friend had met Mrs. Fine, Christopher's tutor on the set of "The Young Riders," and quite out of character for someone who regularly shmoozes with Nobel Laureates, asked her if she would be kind enough to ask Christopher to send him an autographed photo. It arrived in a matter of days.
As I looked at Christopher's picture on the wall, I thought that I had all the time in the world to ask again for an autographed pic. After all, Christopher had guest-starred a few months previously on CBS's "Judging Amy," his episode of "Chicago Hope" had been re-run just a week previously, and 1999 had marked his star turn on MTV's "Undressed," which I was absolutely certain would finally gain him the recognition which he had long deserved. Super-stardom for the young man whom friends Leonardo DiCaprio and Tobey Maguire had grown up envying was finally within his grasp.
How sadly wrong I was: Christopher had already passed away even as I admired the neatly framed picture of him which hung on a wall decorated from floor-to-ceiling with Oscar™ and Emmy™ winners from the early days of talkies to the present; my friend knew where Christopher's picture belonged, and I whole-heartedly agreed with him.
Consider some of the people with whom Christopher had co-starred in the last twelve years: John Ritter, Annette O'Toole, Rue McLanahan, Charles Haid, David Duchovny, Keanu Reeves, Patrick Swayze, Gary Busey, Stephen Baldwin, Christina Applegate, Della Reese, Lukas Haas, Winona Ryder, George Clooney, Amy Brenneman, Tyne Daly, and dozens of other Hollywood luminaries. However bright the stars of these leads may have been, none of them -- not one -- ever succeeded in totally eclipsing the bright, shining star who was Christopher Pettiet, no matter how far in the background he may have been.
With a presence as magnificent as his, with a star power sufficient to enable him to shine no matter with whom he had to share the camera, there seemed all the time in the world for me to get an autographed picture of Christopher for my own collection, but it was not to be so.
Although no details are available, Christopher died of an accidental drug overdose on April 12th. In a bitter, bitter irony, yesterday, still unaware of Christopher's death, I had reviewed the new film Gladiator, which co-stars Joaquin Phoenix, and wondered aloud if Joaquin (who, to me, will always be "Leaf," the twelve-year-old co-star with Tate Donovan, Kate Capshaw, and Lea Thompson of 1986's Space Camp) should begin dusting off a spot for the Oscar™ which his older brother, River, deserved but never received. I used to live near The Viper Room on the Sunset Strip. I went past it one night, all unknowing, as Joaquin cradled his brother in his arms and paramedics tried to revive him. And now drugs have claimed another young actor who, by sheer right of talent, should have lit up Hollywood like the brightest star. Sadly, however, Christopher, like River Phoenix before him, and Marilyn Monroe and others before them, briefly lit up Hollywood like a supernova and then was gone, leaving behind brilliant, drifting memories. . . .
I paraphrase Alan Drury, in turn quoting I know not whom:
Let us wear upon our sleeves the crepe of mourning
For an actor who held the promise of joy. . . .
I once ran into Chris Demetral a few years ago and, instantly befuddled, asked him, "Are you Chris Pettiet?" Demetral, just barely ten months younger than Pettiet, paused for a moment, quietly said, "No," and went on his way. When I realized my mistake minutes later, I thought that I had not only embarassed myself but Demetral, too, forgetting his name while he was in the company of a lady companion. Last year I e-mailed Chris Demetral and asked him if I was forgiven my gaffe, explaining how much I admired Christopher Pettiet; Chris's future wife wrote back to me that all was quite forgiven; the star of "Dream On," "Dallas: J.R.'s Return," and "The Secret Adventures of Jules Verne" was hardly embarassed to be mistaken for the star of "The Young Riders," The Goodbye Bird, and "MTV's Undressed." Writing as a fan, and as a critic, I think I can safely say that no young actor should be embarassed to have one of his performance mistaken for one by Christopher Pettiet. What higher praise can I give him than to say that this young man held his own on camera with some of the leading actors and actresses of our day, and that another young actor who is a star in his own right had no objection to being mistaken for him?
Christian Leopold Shea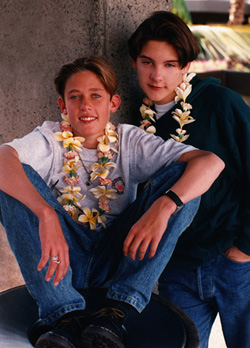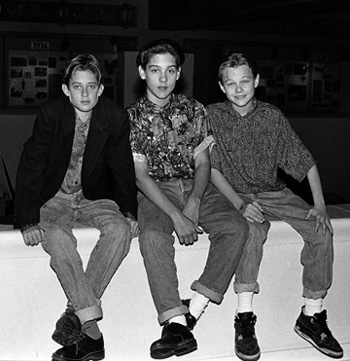 Bob Villard's photos of Christopher with Tobey Maguire, and with Tobey and Leonardo DiCaprio.

For memorial pages written by those who actually knew Christopher, Please visit:
Fans of Christopher's who wish to share their memories of him are invited to do so on our Message Board. Please do not leave personal mesages of condolences for Christopher's family; we are not able to forward them. Do make an effort to donate to the Christopher Pettiet Memorial Scholarship Fund.

Sign Our Guestbook
View Our Guestbook

O MUSE WITH THE JAUNDICED EYE, TAKE ME HOME!

© 1997, 1998, 1999 and 2000 by Jaundiced Eye Productions