THE ORIGINAL DANNY MASTERSON FAN PAGE!
UPDATED 21 MARCH 2003.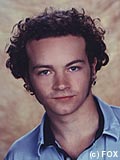 Danny's pic from the official "That '70s Show" web site.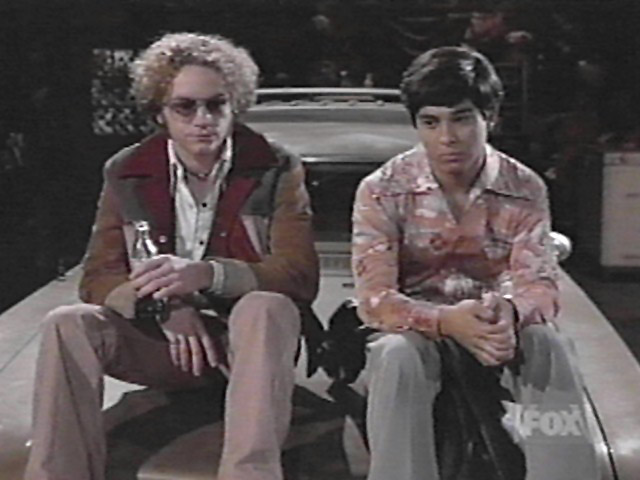 Danny and Wilmer Valderamma ("Fez") "That '70s Show" page. Please check out our soon-to-be-updated page for it!
(c)1999 by Fox Broadcasting Company.

21 MARCH 2003: SQUELCH THAT RUMOR! DANNY STILL ISN'T DEAD
Some of you may have heard that Danny, Ashton and Wilmer from "That 70s Show" were killed in a plane crash. WRONG!
The three were, however, on a small plane which encountered extreme turbulence as it was bringing the three actors and "Seventh Heaven" stars George and Geoff Stults back from the New Orleans Mardi Gras. The turbulence was so severe that the pilot deployed the oxygen masks in case of a plunge or crash.
Stephen M. Silverman and Julie Jordan reported in an article on AOL.com's "People Daily News" for March 13th that the plane landed safely and that no one was injured.
PIX FIXED
Far too long after the Yahho!kaza hijacked our original "That 70s Show" web page, we have fixed the broken links there and those of you who have been wondering what Danny looks like there may now check out that page again. AND ... we have fixed broken picture links here on this page, too.

JAUNARY 2001: DANNY GOES "VAMPING" AGAIN
Not satisfied to have guest-starred on Fox-TV's farewell episode of "Sliders" as "Renfield," Danny has a supporting role in Wes Craven Presents: Dracula 2000, which is playing in theaters now. He has got to be Bruja Clan, as the following shows:
DANNY AND ASHTON "MIX IT UP"
Ashton Kutcher's new film Dude, Where's My Car? is so wildly successful that it landed him a solo picture on the cover of T. V. Guide. magazine. (Which also has a revealing discussion by author Shawna Malcolm of how he and co-star Danny Masterson got into a full-on brawl defending the honor of a young woman in an L.A. eatery. Danny is definitely Bruja. . . . .)



FACE/OFF Photos
Our lovely collection of Photos of Danny and his hero John Travolta, from the movie Face/Off having been destroyed by evil Yahoo!kazas, we are going to have to re-assemble our collection of shots of Danny getting his ass kicked!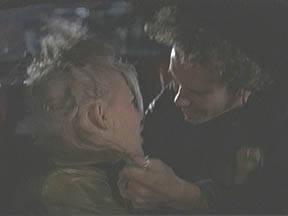 Danny, as "Karl," tries to share a romantic moment with Dominique Swain in Face/Off.
(c) 1997 by Paramount Pictures.
If, as the pictures at the bottom of this page show, Danny gets frustrated over not getting his Frosted Flakes,
that's nothing compared to how Karl reacts when he can't get his kiss (or whatever).
(c) 1997 by Paramount Pictures.

THE SURVEY COUNTER
As we noted looong ago on our main page, Danny's brother Christopher Masterson came in first (by one vote!) over Danny as your favorite star here the last time around, but we received so many write-ins for Ben Affleck, Ryan Phillippe and others that we had to re-set the survey counter to include them. If you want to vote for for yourfavorite actor here, go to the bottom of this page and click on the plea to the Muse to take you "Home" (ours, not yours!), then scroll down to the survey panel and recast your vote.
(Note: 29 December 2000: Ryan Phillippe has fallen ridiculously behind Christopher Masterson, with Ben Silverstone and Esteban Powell competing for third and fourth place, with Danny still far ahead of super-star Ben Affleck.)

DANNY'S FAN MAIL ADDRESS:
See, we try hard for you . . . !
Finally, for all of you who have been asking, here is the OFFICIAL address to which to send fan mail for either Christopher OR Danny Masterson:
The Savage Agency
6212 Banner Avenue
Los Angeles, CA 90038
USA
Do NOT -- shall we repeat this for you? -- DO NOT expect either Christopher or Danny to have the time to reply to your letters, although they will probably read them when they have the chance. They are both extremely busy right now with their shows (remember, Danny had to give up a majormovie role just to appear in "That '70s Show"), and they both have lives, so they don't have much time to answer their mail personally. (Hint for those who don't grasp the obvious: DO NOT send homemade cookies and cakes, either -- the ants will eat them long before either Masterson receives the package, which will have to be forwarded to them, a process which usually takes the U.S. Postal Service about two weeks to accomplish (and far longer during holiday seasons). Also, be advised that this is NOT -- N-O-T -- where they live, so don't bother going there in person -- you won't find them; Danny lives with his girlfriend in the Hollywood Hills and Christopher travels constantly making movies (when he isn't making "Malcolm" or living with his girlfriend, Laura Prepon of "That '70s Show,", so Goddess only knows where he is on any given day!
For the benefit of a few smart-arse Val gurls who think that we are talking down to them, personally, when we state these "obvious facts," bear in mind that in most of the rest of the world doing these sorts of things is perfectly okay -- it's not acceptable in the USA, however, something some of our readers in the thirty-five other countries we write for may not understand. In some European countries -- but not England, of course! -- the ruling Queen does Her own household shopping at the market like any other homemaker, and will chat with people in line as any other person would. Hollywood is "Stalker City" so that sort of familiarity doesn't generally exist here.

MASTERSON MISCELLANEA
Fans of Danny's brother, Christopher, should click on his name to find out about Christopher's roles in girl, Dragonheart: A New Beginning, "Malcolm in the Middle," and American History X.

Did you see Danny as a guest on USA television's "Happy Hour"?
AVAILABLE NOW: A review of The Faculty
Are Danny and Wiley Wiggins F$@% Heads? Find out.

Since so many people became fans of the "Cybill" show because Danny appeared on it as Justin, the son of Maryann (Christine Baranski), we could not resist adding this autographed photo of Miss Baranski from Cruel Intentions, in which she plays the mother of Selma Blair (Zoe Bean from the WB's "Zoe, Duncan, Jack and Jane") opposite Sarah Michelle "Buffy, the Vampire Slayer" Gellar, Joshua "Pacey Witter" Jackson, Ryan "Billy Douglas" Phillippe, as well as Swoosie Kurtz, Eric Mabius, and many others. Unfortunately, Danny was too busy doing The Faculty and "That '70s Show" to even try to go to his native New York for Cruel Intentions.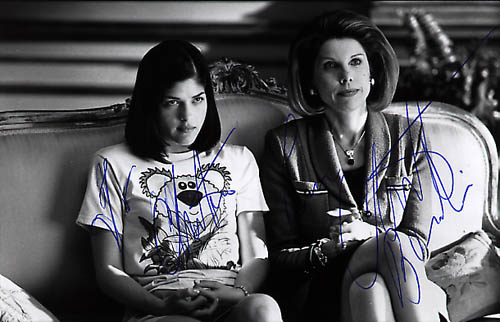 Selma Blair and Christine Baranski in Cruel Intentions.
Photo: Melissa Moseley. (c)1999 by Columbia Pictures Industries Inc.
Autographed photo of Christine Baranski from the private collection of Dr. Christian Leopold Shea. All rights reserved: do not copy, download, or duplicate it.
(Creating internet links to it is okay.)
NO, HE'S NOT DEAD!
We hope that by now we squelched this rumor before it managed to get started! No, Danny Masterson, the actor, is NOT dead. Last year a message relating to the death of a peace officer was posted in a (not-very-well) restricted NYPD computer base. Part of the post was a message of condolences from a DIFFERENT Danny Masterson, who is also, presumably, alive and well. Since "our" Danny is from New York originally, some not-very-careful Net lurkers might have wrongly assumed that Danny was killed. As of today, both Danny Mastersons are alive and well.
As of today, the darkest cloud on Danny the actor's horizon is that he was shut out of a rule in a upcoming Warren Beatty movie, apparently because the role was expanded (for him) just as Fox picked up nine more episodes of "That '70s Show," leaving Danny no time for the film. Josh Hartnett has replaced him in the role. Poor Danny was left with no film role -- just three seasons of one of Fox television's highest-rated shows!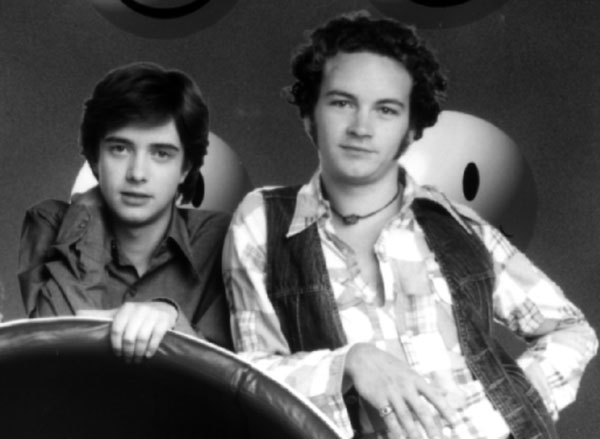 chrisTOPHER GRACE and DANNY MASTERSON in
"That '70s Show"
Photo: Michael Levine/FOX. (c) 1998 Fox Broadcasting Company.
Danny is not only in "That '70s Show," but as we have been saying for over two years, he IS a Nielsen Master-man. "That '70s Show's" first episode debuted at #7 nationally with about . . . 12,560,000 viewers. It dropped a little in its second week, but still wound up with a respectable 6.0 rating and a 12 share, making it Fox's second-highest-rated show for the week of August 24 - September 30, 1998. Johnny Galecki may be The Man, but Danny remains a Master-man; see below for more on his television ratings power.
Please do remember, that ours is UNofficial information about Danny Masterson, except, of course, that he and Christopher are brothers, that Danny co-starred in Beethoven's 2nd, Star Kid, Face/Off, "Cybill," etc., which everyone knew, anyway. Right? Right?
For more on Danny's career, we refer you to the Internet Movie DataBase.
How to tell that this is an UNofficial site: we just hinted back to an embarassing screw-up (not ours, BTW) in which Danny was listed for half a year as "Masterman" in The Academy Players' Directory. We don't think Danny appreciates anyone calling him that, but at least it helps to show how long we have been fans of his. (Like, ya know, since 1993 or '94 -- see the pix below, from one of Danny's celebrated 100+ commercials. You won't find these anywhere else -- unless they were lifted from here! In 1999 we may post some more pictures from Danny's old commericals, but we guarantee nothing. . . .)
Danny from Movieline magazine.
Danny told Movieline that he enjoyed doing Face/Off, the film in which John Travolta kicks his ass. He also said that the wildest rumor that he has heard about himself is that he is Gay. (We have yet to poll our viewers to find out their feelings about that particular statement! Do, however, visit our special page on who's Gay and who's Cool.)
DOES JOHN TRAVOLTA KICK DANNY'S ASS IN FACE/OFF?
WE PUT IT TO THE TEST: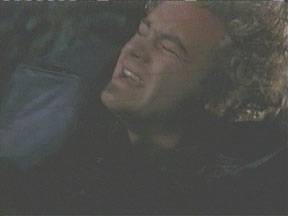 Danny begins getting over-excited.
(c) 1997 by Paramount Pictures.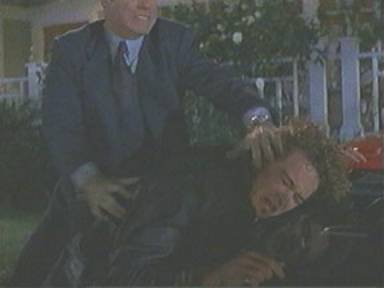 Danny begins getting in way over his head.
(c) 1997 by Paramount Pictures.
Danny needs some persuasion before John Travolta can get him to apologize.
(c) 1997 by Paramount Pictures.
Sean . . . er . . . Castor . . . um . . .one of them finally gets Karl to apologize.
(c) 1997 by Paramount Pictures.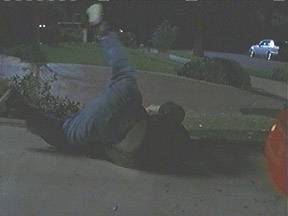 Well, he was kicked, alright, but not in the ass. He got it in a more memorable place,
but Karl is a better man for having learned how to behave around his girlfriend's psychotic father!
(c) 1997 by Paramount Pictures.
WANT TO READ FACE/OFF OR SOME OTHER GOOD BOOK?
Well, the squirrels and rats at Yahoo, Inc. won't let us access our financial records for our GeoCities affiliate who sells books that Danny and his friends and fans would be interested in, so you can't anymore! BLAME YAHOO! INC. not us -- we tried to help you get the books.
By the way, we have been informed that as of April 1999, Danny was PTS/SP. We would like to tell you more, but we can't. Everybody thank Yahoo!

Photo by Kate Garner, © Seventeen, October 1997.
(As to what six-gauge reverse pliers are . . . WE sure didn't know until someone told us! Suffice it to say that they are BIG.)
(WE have since been reliably informed that the Society for Creative Anachronism favors 16-gauge wire for making suits of "Medieval" chainmail; 6-gauge wirw would be almost three times as thick -- and sword-proof!
January 2001 "JIMMY" News
In Los Angeles and Hollywood the "Roseanne" episodes featuring Danny as Darlene's hot love "Jimmy," "Follow the Son" (11/2/1994), and "Punch and Jimmy" (11/9/1994), aired on January 11th and 12th, 1999. Check listings in your area for days, times, and the specific episodes for their Y2K re-runs. By the way, we DID get to record these episodes. It's not inconceivable that some day we may even post pictures from them. Maybe. In any case, they usually air once a year, so keep looking for them.)
IN 2001, however, none of the L.A. stations will be airing any "Roseanne" re-runs near the scehedule of the episodes in question. Viewers outside of L.A. should still check their local television listings.
Star Kid
Danny co-stars in Joseph Mazzello's film Star Kid, which is now available on video. He plays a creepy boyfriend who gets more than he bargained for on a way-too-hot date.

WANT TO SEE FACE/OFF OR SOME OTHER MOVIE WITH DANNY OR JOHN TRAVOLTA?
Well, the squirrels and rats at Yahoo, Inc. won't let us access our financial records for our GeoCities affiliate who sells the videos and DVDs that Danny and his friends and fans would be interested in, so you can't anymore! BLAME YAHOO! INC. not us -- we tried to help you to get them.
Yahoo! Inc. is controlled by a Japanese company, by the way, not a German one, even though they sell NAZI memorabilia in Europe, where it is illegal to buy or sell. Everybody thank Yahoo!

BLASTS FROM THE PAST:
FROM AUGUST 1997:
Fame Finally Knocked on Danny's Door
Well, it had to happen sooner or later (we predicted it, therefore it was destined to occur): Danny Masterson's star has finally lit up. Both T.V. Guide (August 1, 1997) and Dramalogue (July 31) have written him up now that he is a regular on CBS's "Cybill", as Zoey's love interest (and Maryann's son), "Justin," a vegetarian eco-activist. (As of May 1998, unfortunately, "Cybill" has been cancelled, despite the ratings boost which Danny supplied to it.)
Since, as some of you have noted, we are the premiere source for information about Danny Masterson and his brother Christopher on the Internet, there is precious little we can add to what we have already said about the elder of the two talented Masterson brothers except to add here that Danny is a native New Yorker, came to L.A. at age 16, has done over 100 commercials, appeared in Face/Off at the same time brother Christopher was in My Best Friend's Wedding), and that he is going to go very, very far in The Industry (WE have spoken). (Having SPOKEN, we point out that until Titanic was released, Christopher and Danny's films were respectively the 9th and 10th highest grossing US-made movies of 1997!)
FEBRUARY 2000: SEE? WE HAD A PAGE FOR DANNY BEFORE HE WAS A STAR!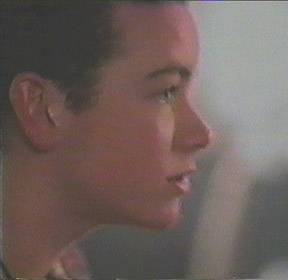 Danny obviously didn't need six-guage reverse pliers to sell Frosted Flakes!
Photo news: The September 9th (1997) Globe (the very collectible "To Di For" issue) has a photo of Danny, but we were not given permission by the photo agency which represents the photographer to reproduce the picture here for you. :(
Nielsens Love Danny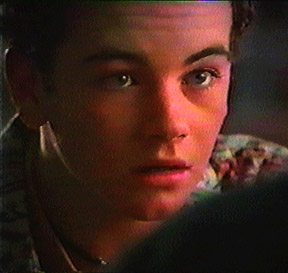 Danny craving Frosted Flakes.
Danny, the Nielsen Master Man!
Nielsen homes seem to love Danny Masterson: in Week #52 of the 1996/1997 TV Year (that's September 8th to September 14th, 1997), Beethoven's 2nd "won" its timeslot (except for its first half hour, opposite "Sabrina, the Teenaged Witch"). Interestingly, its ratings got progressively higher as the show proceeded, peaking during the last half hour (when Danny has his part) with 16% of America's TeeVee sets tuned in to watch Danny Masterson.
Okay, so maybe it was just a fluke that the highest ratings for Beethoven's Second were in the half-hour in which Danny appeared, but our in-house number cruncher has discovered something which isn't a statistical fluke: every time Danny's character Justin is featured in "Cybill," the show's ratings increase and an average of 2,180,000 extra people tune in to watch! So far this season, the two highest-rated episodes of "Cybill" have prominently featured Danny. And WE remember him when he was selling Clearasil and Kellogg's Frosted Flakes!
When CBS re-broadcast brother Chris Masterson's "Touched By an Angel" episode, NBC countered by airing "Beethoven's 2nd," starring Danny. They finished first and second in their time slots, with (of course!) the last half-hour of "Beethoven," which is the part that features Danny, scoring the highest share of that movie's ratings.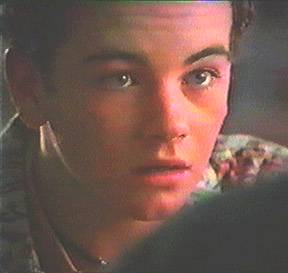 Danny just can't get those Frosted Flakes!
All three Frosted Flakes commercial photos (c) 1994 by Kellogg's (r).

Sign Our Guestbook
View Our Guestbook
By the way, for those of you who are unclear on the concept, Ryan Phillippe, Jesse Bradford, Jordan Brower, JTT, the two Mastersons (Christopher and Danny), the three Bens (Affleck, Jorgenson, and Silverstone), and most of the other stars whom we feature have no official connection with our web sites (unless we specifically indicate otherwise). Signing our Guestbook with "Private" messages to them is pointless -- "Private" messages are password-protected, and we servants of the Muse With the Jaundiced Eye are the only ones who are reading your private love notes to the stars. If you are hoping that your fave will read your love note (and occasionally a star will drop by here to take a peek), you must leave your message in the usual fashion if you want him/her/it/them to read it.

Original contents (c) 1997, 1998, 1999, 2000, 2001, 2003 by Jaundiced Eye Productions. All rights reserved. Yahoo! Inc. and all of its subsidiaries, partners, associates, agents and employees are specifically prohibited from publishing or reproducing any of the original material on this page except to display it at the URL http://www.geocities.com/hollywood/hills/1670.