YOUNG STARS WHOM WE KNOW, LOVE, or ADMIRE!

UPDATED 19 NOVEMBER 2001

Join the Blue Ribbon Online Free Speech Campaign!

11 OCTOBER 2001: AMERICANS, PLEASE READ:
The United States Congress is CURRENTLY (as in today and for the next several weeks)considering "Anti-Terrorist Legislation" which would have a serious and extremely negative impact on the use of the Internet, e-mail, telephone service, and other means of telecommunication, and the Department of Justice is actually in a position to begin considering the users of music download services and users of "open source code" of DVDs as terrorists.. We strongly urge ALL of our visitors, but U.S. citizens and resident aliens especially, to click on the Blue Ribbon icon under the "Last Updated" line above, visit the Electronic Frontiers Foundation site and find out what you can do to (1) protect your on-line privacy, and (2) fight legislation which would curtail our free speech.
Of course, if you think that logging onto another person's computer to download music should land a person in prison, then please don't bother. If you can't tell the difference between MP3, a DVD, or a Stinger missile, though, there is good news for you: several U.S. Government agencies have job openings now and they are offering high salaries, good benefits and lifetime job security to people who are willing to give up the U.S. Constitution rather than defend it. After all, the only thing that separates Jerry Falwell, Pat Robertson and their worshippers in Washington from the Taliban is that the Taliban have no clothing sense.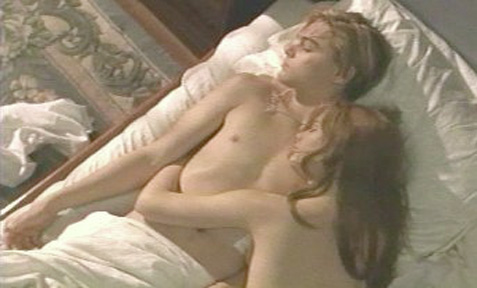 Leonardo Di Caprio & Claire Danes as R & J
(c)1996 by 20th Century Fox.
Here's a brief list of some stars whose pictures are available here at Jaundiced Eye's Home Page. Please note the copyrights of the various picture owners and do NOT print or download these pictures without permission. If we have been unable to locate a copyright owner, our use of the picture is not meant to imply any infringement of the rights of the copyright holder. They are published here for the purposes of fair use and comment ONLY, so that you may see whom we "know, love, or admire," and then pay good money to see their movies.
Please enjoy these pictures and tell your friends about them. (We have reloaded this page in May, 2001, but we are still having some trouble with some of the pictures. We are working to get this page up and running again as soon as possible.)
HINT: for faster reference to this page in the future, either bookmark it (or select it as a "favorite" if you are using that browser, -OR- visit it by using the URL:
http://switch.to/youngstars
Again,
ENJOY!
Christian Bale in Secret Agent and with Rowan Atkinson in The Nerd on our own Christian Bale Fan Page!



Jay Baruchel, currently the star of "Undeclared," in 1997, when he co-hosted "Popular Mechanics For Kids."
(c) 1997 Hearst Entertainment.



Macaulay Culkin in Getting Even With Dad (?)



Leo in The Basketball Diaries

Leonardo DiCaprio in The Quick and the Dead
Leonardo DiCaprio showing his piece in The Quick and the Dead
Leonardo DiCaprio showing his piece in William Shakespeare's Romeo and Juliet


Kyle J. Downes played Ezra Friedkin on "Higher Ground" and is Larry Tudgeman on "Lizzie McGuire."

(c) by Kyle J. Downes. Used by his kind permission.

Click HERE to visit Kyle's web site. Tell him that you saw his pic at the Jaundiced Eye!



Luke Edwards, Billy Sullivan, and Miles Feulner in Little Big League.
Who the heck is Miles Feulner, anyway?


Eric, a California surfer who turned down stardom




Tommy Howell from The Outsiders





Ben Jorgensen (ex-"All My Children") in Break, courtesy of Y.M.S.




Ben Jorgensen, also from Break, courtesy of Y.M.S.






Walter A. Lutz, Jr. ("Saved By the Bell: The New Class")




A nice photo of Walter A. Lutz on his own home page. We've produced a video with Walter; he's got a lot of talent. (And he sure as heck does not look like the nerd he played on SBTB!!!)

Chis Masterson as "Mr. Bowen." Believe it or not, it is the only picture of him which we had for two years!





Jonny Lee Miller in Hackers. (Withdrawn -- only available by request.)
Jonny Lee Miller up close in Hackers




Joe's Apartment (Be sure to come "BACK" to us!)
Greg Raposo, major recording star of the near future.




Ryan Reynolds

doing a yoga asana in Ordinary Magic, (c) 1993 by The Film Works.


Ryan Reynolds in the pool in Ordinary Magic, (c) 1993 by The Film Works.



Rarely have we been so clueless as in the case of Sean Roberge, the Genie-nominated Canadian television actor. From "My Secret Identity" to "Tarzan" to In the Mouth of Madness, we enjoyed his work, but have only just learned of his death some time ago. This link is to a memorial page for him.




Devon Sawa sacked out with a prosti . . . ah . . . woman in "Lonesome Dove."




Devon Sawa showing some skin.




Devon showing still more skin; and no we do NOT have pix of his bum from Now and Then!

Brendan ("Warren Beatty") Sexton looking sulky & sultry in Welcome to the Doll House




Rider and Shiloh Strong. (c)by Christian Leopold Shea. All rights reserved.






Henry Thomas, all growed up, in Legends of the Fall (he was the star, remember?!)




Henry Thomas, also from Legends of the Fall





The Phillip Van Dyke Home Page



Elijah Wood and Flipper.






A wonderful photo of Kevin Zegers which we were permitted to upload to the Jaundiced Eye Home Page.






A young fellow on the beach at Sinope (Sinop).

Photo by Randy Olson.

For a century, boys have been enjoying National Geographic magazine for the pictures . . . er . . . "articles." As this photo selection from Randy Olson's article "Deep Black Sea," National Geographic, May, 2001 (volume 199, #5) shows, however, there can be something in it for the Girls, too. We would hazard a guess that this guy is about the same age as Aaron Carter. Think of it, Girls: no more embarassment about buying teen fan magazines to enjoy pictures of cuties -- now you, too, can enjoy the same "education" that boys have been enjoying from National Geographic! (The article, by the way, is about Dr. Robert Ballard and his team exploring an area of the Black Sea which may contain the remains of many, most, or even all of the ships which have ever sunk in the Black Sea over the past several thousand years.)





It's the End of the World . . . :
In 1985, in Athens, Georgia, the video for R.E.M.'s "It's the End of the World as We Know It (and I Feel Fine)" was recorded, but with no credit given to its young star. According to Michael Stipe, he was a local boy who was recruited for the video, it was a miserably hot day and he spontaneously removed his shirt because of the heat and humidity; the director liked the look and the rest is music video history. Our young fellow subsequently went on to try his own hand at a recording career.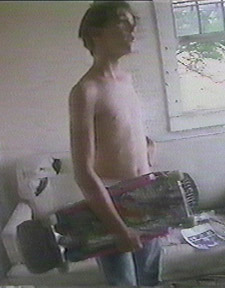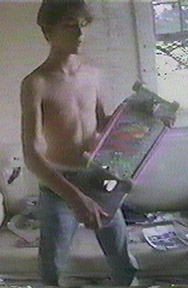 Visit The Young Stars Links Page. We like it. You probably will, too.