WELCOME TO THE JAUNDICED EYE'S REVIEW PAGE!

SINCE 1980.
IN EXILE SINCE JULY, 1999

UPDATED 22 OCTOBER 2001

Join the Blue Ribbon Online Free Speech Campaign!

22 OCTOBER 2001: AMERICANS (AND CANADIANS) -- PLEASE READ:
The United States Congress is CURRENTLY (as in today and for the next several weeks)considering "Anti-Terrorist Legislation" which would have a serious and extremely negative impact on the use of the Internet, e-mail, telephone service, and other means of telecommunication, and the Department of Justice is actually in a position to begin considering the users of music download services and users of "open source code" of DVDs as terrorists.. We strongly urge ALL of our visitors, but U.S. citizens and resident aliens especially, to click on the Blue Ribbon icon under the "Last Updated" line above, visit the Electronic Frontiers Foundation site and find out what you can do to (1) protect your on-line privacy, and (2) fight legislation which would curtail our free speech.
Of course, if you think that logging onto another person's computer to download music should land a person in prison, then please don't bother. If you can't tell the difference between MP3, a DVD, or a Stinger missile, though, there is good news for you: several U.S. Government agencies have job openings now and they are offering high salaries, good benefits and lifetime job security to people who are willing to give up the U.S. Constitution rather than defend it. After all, the only thing that separates Jerry Falwell, Pat Robertson and their worshippers in Washington from the Taliban is that the Taliban have no clothing sense.
CANADIANS: your government is ALSO currently considering legislation which would strip away your Internet privacy and intrude upon your use of telecommunications devices. Please click on the Blue Ribbon and find out the latest news from the Electronic Frontiers Foundation.
THIS IS PAGE TWO OF THE OFFICIAL MIRRORED HOME PAGE OF JAUNDICED EYE PRODUCTIONS AND OF HIS NIBS, THE GRAND PANJANDRUM, IN EXILE AT TRIPOD.
Locked out of GeoCities by evil, greedy Yahoo!kazas, we still invite you to drink from the wellspring of the Muse With the Jaundiced Eye and imbibe the sweet wisdom of the Grand Panjandrum's pontifications on a variety of subjects, not the least being mass entertainment. To which are added several photos and drawings, ALL OF WHICH are copyrighted, so don't download them without OUR permission.

CLICK HERE FOR INDEX PAGE 1, WITH ENTERTAINMENT NEWS AND FAN PAGE LINKS.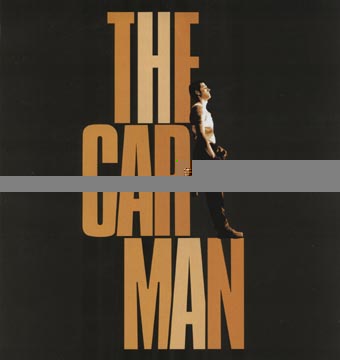 AVAILABLE NOW: A REVIEW OF
You can meet the most unexpected people at the ballet, even -- would you believe it? -- those stars of "Breaker High," Tyler "Dead Last" Labine, Scott "Boston Public" Vickaryous, and Ryan "Young Hercules" Gosling. 'Tis true, gentle readers, true -- the three young hotties who set the hearts of the girls afire wherever they are syndicated are all fans of the performing arts. Of course, anything by Matthew Bourne can't really be considered "a ballet," can it? Especially one based on "The Postman Always Rings Twice," set to the music of Bizet, and located at a garage and diner in "Harmony, USA," right? Right? . . . Yeah, right.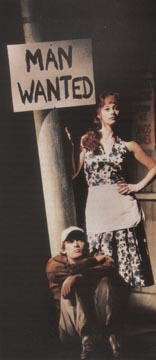 We bring up the presence of these young heart-throbs not only to tantalize our readers with hints of what they might be missing if they miss seeing "The Car Man" in Los Angeles, but also to suggest that the production is really quite excellent, and the atrocities of September 11th did not interfere with the quality of the production.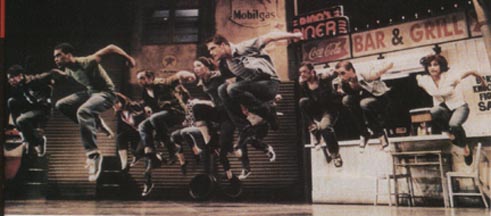 Unfortunately, however, the recent killing of more people than were killed at Pearl Harbor and in the sinking of R.M.S. Lusitania combined has shaken up some of us a bit, and if your browser doesn't give you a complete review of "The Car Man," rest assured, it was turned in promptly, and just as promptly mangled, either by one of us or by the heavy Internet usage following the sub-human acts of Osama bin Laden's terrorist vermin. That is why we posted our pix of "The Car Man" here -- we daren't interfere with what is currently posted on the review page lest we delete the entire review. (As of 22 October, the review seems to have been restored and is available in full, but without further checking we cannot guarantee that it will work on all browsers.) We hope that The Centre Theatre Group, the photographers, and the performers will forgive us if we omit the credits for which we are usually such sticklers. Current events have left us feeling just as trapped as . . . well, see "The Car Man" and see for yourself what we mean: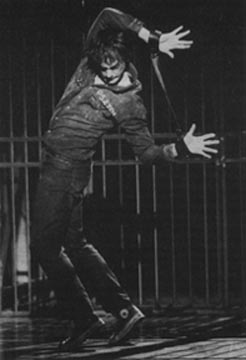 Available now: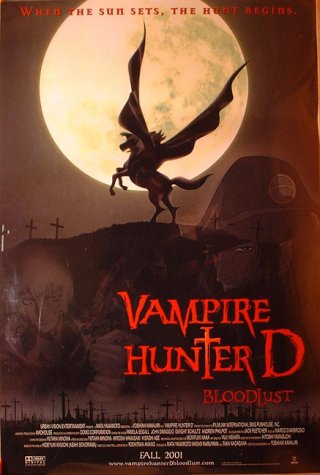 MULHOLLAND DRIVE
Not exactly your usual On-Line Review. . . .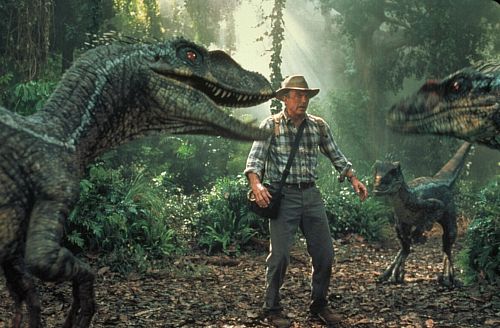 Sam Neill returns as Dr. Alan Grant to battle terrible dinosaurs and an even more terrible script.
(c) 2001 by Universal Studios. All rights reserved.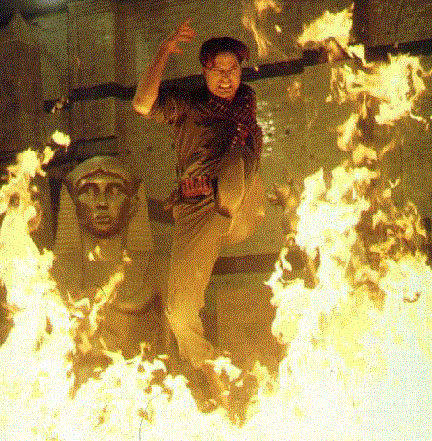 Brendan Fraser returns to battle not only The Mummy, but . . . worse dangers.
(c) 2001 by Universal Studios. All rights reserved.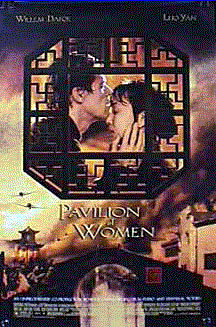 Willem Dafoe and Luo Yan star in The Pavilion of Women, based upon the Pearl S. Buck novel.
(c) 2001 by Universal Studios. All rights reserved.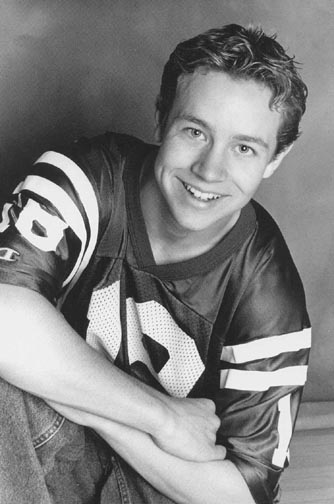 Phillip Van Dyke stars in The Innocents Mission.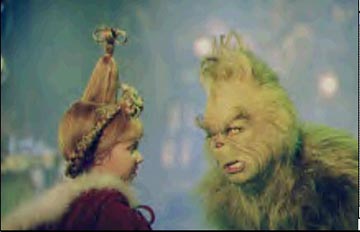 Cindy Lou Who (Taylor Momsen) engages the Grinch(tm) (Jim Carrrey) in dialogue about Christmas.
(c) 2000 by Universal Studios. All rights reserved.
"Dr. Seuss' How the Grinch Stole Christmas," "The Grinch, " and Dr. Seuss characters all (tm) and (c) Dr. Seuss Enterprises, L.P.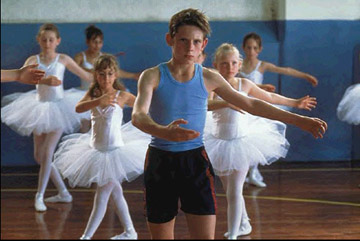 Jamie Bell (center) stars in Billy Elliot, which our On-Line Reviewer calls an Oscar (r) contender.
(c) 2000 by Tiger Aspect Pictures.
Available now:
ON-LINE REVIEWS!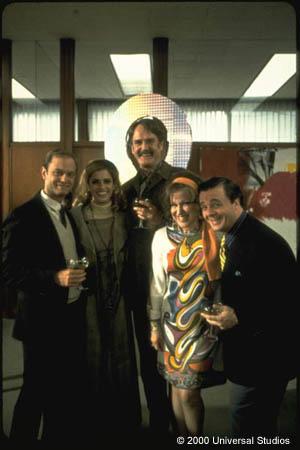 David Hyde-Pierce, Amanda Peet, John Cleese, Bette Midler, and Nathan Lane in Isn't She Great, which definitely is!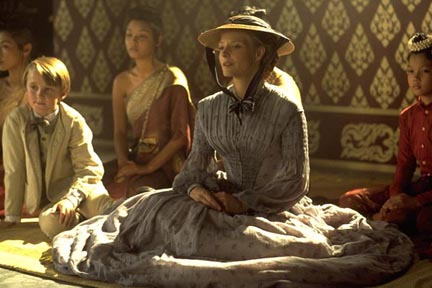 Jodie Foster plays Anna Leonowens and Tom Felton plays her son, Louis, in Anna and the King.
(c) 1999 by Fox Entetainment and its related companies. All rights reserved.
An On-Line Review of Anna and the King, starring Jodie Foster and Chow Yun Fat.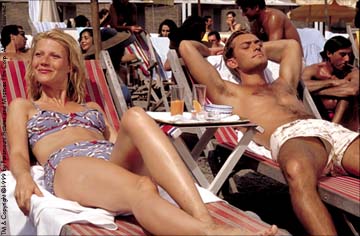 Gwyneth Paltrow and Jude Law are stalked by Matt Damon in The Talented Mr. Ripley
An On-Line Review of Golden Globe winner The Talented Mr. Ripley, starring Matt Damon, Jude Law and Gwyneth Paltrow.
An On-Line Review of East-West, starring Hillaire Bonnaire and Catherine Deneuve!
An On-Line Review of Golden Globe winner All About My Mother, from Aldomovar!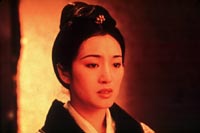 Gong Li plays the beloved Lady Zhao in The Emperor and the Assassin.
(c) 1999 by Sony Classics Pictures. All rights reserved.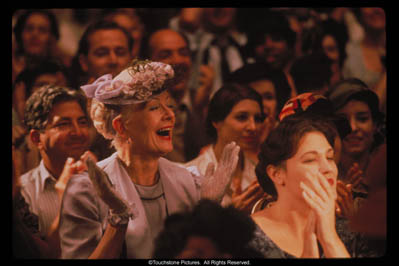 The Patron: Countess La Grange (former Oscar(r) winner Vanessa Redgrave) wants the show to go on in The Cradle Will Rock.
An On-Line Review of Cradle Will Rock, starring most of the actors in Hollywood!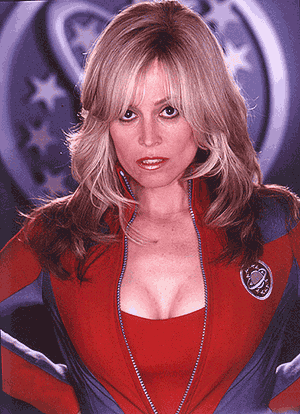 Former Oscar(r) nominee Sigourney Weaver co-stars in Galaxy Quest
(c) 1999 by DreamWorks SKG. All rights reserved.
An On-Line Review of Galaxy Quest, starring Tim Allen and Sigourney Weaver!
(We're re-arranging and updating the film summaries, so not everything is currently available. Sorry, but -- thank Yahoo!)

OKAY, YOU PEOPLE! We know many of you are coming here to ogle
Ryan Phillippe half-naked,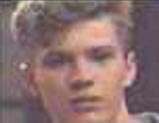 and then pass by everything else here, so be advised: our link to Ryan and his sexy Bruce Weber photograph (thank you, Interview!) is still trapped in the Geo-Gulags and has not been fully mirrored here yet. The most important recent news about Ryan is that his wife, actress Reese Witherspoon, had a baby girl, who has been named Ava Elizabeth, according to our source. If you go to the old Ryan page, remember to bookmark THIS page and use your browser's "Back" button to escape from the Geo-Gulags. To keep you occupied while we are busy freeing our trapped Ryan material, here are some film reviews, including one for Ryan's film, 54. Soon, we shall finally be able to present an On-Line Review of the "Director's Cut" of 54, from which many of Ryan's scenes were cut, especially those with his pal Breckin Meyer and with Dogma star Salma Hayek.

QUICK OPINIONS ON 1999 and 2000 FILMS:
On-Line Reviews for movies in current or recent release have been trapped in the Geo-Gulags and will be posted or re-posted as time permits.
For our 1997 "quick opinions," please click here for our Film Opinions page. Click HERE for reviews of selected 1998 films, most of which are now available on videotape or DVD.


54 (Now on video and just as much a waste as it was in theaters): Our reviewer asks: "54, Where Are You? and begs for the original Director's Cut of what was, according to the cast, a fine film until Disney's accountants decided that it should be re-filmed and re-edited. (Keep watching for our long-awaited review of the Director's Cut, which our On-Line Reviewer finally got a chance to see!) The commercial release of 54 is a complete disaster, NW2: NOT WORTH $2.00.

13th FLOOR: see our opinions at "THE THIRTEENTH FLOOR"below. A MUST SEE MOVIE for science fiction fans!

AMERICAN BEAUTY: click on the title for an On-Line Review.

AMERICAN PIE (now on video and DVD, in both MPAA-rated and unrated versions, and on DVD): slight, but very funny film about a teenaged boy who is curious to know what sex is like. Eugene Levy is very funny as his father, who understands the boy's curiosity, but tries to keep the facts of the matter from his wife. We haven't compared them, but we're guessing that the unrated version is the funnier of the two.

ANYWHERE BUT HERE: Natalie Portman's character, Ann August, tries to come-of-age despite her severely neurotic mother, Adele (Susan Sarandon) in this heavy-hitter which might score some acting nominations for one or both of them. Corbin Allred plays a very shy boy who cannot express his love for Ann, but Ann has no hesitation about displaying her lust for him. Not "just a chick flick" by any means, both Portman and Sarandon turn in powerful performances. By way of comparison, our On-Line Reviewer swears up and down that -- despite having seen her face literally thousands of times, he was completely unaware that Natalie Portman had been the actress playing Queen Amygdala in Star Wars: the Phantom Mis-Fire, and it was only thanks to an "Entertainment Tonight" story that he associated Miss Portman with what he has derided as one of the worst movies of 1999; he sincerely hopes that Miss Portman will stick to good scripts like Anywhere But Here in the future! (24 Decemmber 1999: The Foreign Press Association seems to agree with our On-Line Reviewer: Natalie Portman received a Golden Globe(r) nomination for Best Supporting Actress.)

BEING JOHN MALKOVICH:click on the title for an On-Line Review. Another likely contender for Best Picture honors, and for a Best Actor nomination (John Malkovich).




The BLAIR WITCH PROJECT (now on video and DVD): A major embarassment to the big Hollywood studios, this low-budget independent horror movie (made for less than US $100,000) is rapidly approaching the $150,000,000 mark in box office revenues! The fictional story of a group of three amateur film-makers who venture into a Maryland forest in order to make a documentary about the legendary "Blair Witch," the film has no fancy computer effects, a no-name cast, low production values, but is obviously the well-thought-out plan of a group of dedicated young film-makers who wanted to make a truly scary movie. And they did! Using no more than light, shadows, sound, and dialog, they created a film which digs DEEPLY into every primitive human fear about being lost and alone in the woods . . . in the dark . . . with monsters. The Blair Witch Project is like uncesored "fairy tales" from the Brothers Grimm -- as scary as can be. THIS film best shows why we hate big budget Hollywood science fiction and horror movies: for a tiny fraction of what a piece of garbage like Phantoms cost, these young film-makers -- using virtually no special effects -- have managed to scare the wits out of millions of Americans in the past month. Absolutely to too scary for most children, and contains smoking, alcohol use, and much profanity (and some killing and stuff, too), but it has our highest rating: W8: Worth $8.00.

BOYS DON'T CRY: In this second screen version of a true American tragedy, Hillary Swank plays Teena Brandon, alias Brandon Teena, and Chloe Sevigny thinks Brandon's her new boyfriend . . . until she discovers that "he" is really her new girlfriend. This doesn't sit well with her family and friends, and the consequences are ghastly. Our On-Line Reviewer felt that the beginning dragged and that Chloe Sevigny was just going through the motions during the first twenty minutes or so of this movie, but others disagree and say that it was solidly acted through and through. Once Swank and Sevigny start getting romantic, however, the movie's pace picks up quickly and is a real thrill ride. (17 OCTOBER 2000: Swank has since won an Oscar (r) as Best Actress.) Ultimately raped and murdered by those who thought that Brandon was "un-natural," his/her portrayal by Swank is not at all romanticized and Teena is not presented as a pure martyric soul sacrificed on the altar of Bible Belt bigotry. Rather, Brandon is portrayed as a thief, bail jumper, and general rowdy who is sacrificed on the altar of Bible Belt bigotry. The same people who would have found the REAL Brandon repulsive in the extreme will probably buy hundreds of thousands of copies of this film on video for one-handed viewing of the love scenes between the attractive Sevigny and the handsome Swank. Go figure. . . . Marlene Dietrich was a beautiful woman and a handsome man; if Hillary Swank could sing as well as act, maybe she could follow in Dietrich's footsteps!

The CIDER HOUSE RULES: Click on the title for the On-Line Review. Tobey Maguire, Charlize Theron, Paul Rudd, Michael Caine, Delroy Lindo, Erykah Badu, Heavy D . . . what could go wrong? Well. . . .

DEEP BLUE SEA: Concept: "Jaws" meets "Jurassic Park," Das Boot, and "The Andromeda Strain." Mad scientsists. LL Cool J. A shark smarter than Samuel L. Jackson. Lots of things get blowed up real good. Lots of people horribly mutilated and devoured. If you like that sort of stuff, W8: Worth $8.00, otherwise view at your own risk. Strong possibility of a Best Supporting Actor nomination for LL Cool J.

DICK (now on video): we are not serious all of the time, and neither is Dick, a raucus parody of the Watergate Scandal which forced U.S. President "Dick" Nixon to resign. In Dick, two dim-witted teenaged girls happen upon G. Gordon Liddy during the famous break-in of the Democratic National Headquarters in the Watergate complex, and they are made "Official White House Dog Walkers" to buy their silence, only to discover that the President himself knew about the break-in and covered it up. Angry at what they learn (the President kicks his dog and has "a potty mouth," among other things!), they contact Washington Post reporters Woodward and Bernstein and the two girls become . . . you guessed it . . . the inside source known as "Deep Throat" who brought down the President. The film is terribly funny for those old enough to remember the Watergate scandal, but it turns out that the story itself is no joke: the technical advisor for the film was John Dean -- the President's own attorney and a Watergate insider. Under the guise of low-brow comedy, Dick may show more truth about what happened during Watergate than the celebrated All the President's Men. It is DEFINITELY worth a viewing by anyone interested in Watergate.

DOGMA:click on the title for an On-Line Review. Wonderfully funny satire starring Ben Affleck, Matt Damon, Chris Rock, Linda Fiorentino, Salma Hayek, Alanis Morissette, Jason Lee and, of course, Jason Mewes and Kevin Smith.

THE EXORCIST a re-release of one of the all-time great horror movies, with digitally enhanced sound and added footage and special effects. The improved sound is a definite plus-good improvement, but the added footage, which consists primarily of Linda Blair doing her "spider walk" down the stairs (originally scrapped because it was of technically poor quality) is a badly placed addition and spoils much of the suspense for which the original version was (in)famous. The extra visual effects which are inserted here and there throughout the film are, however, a DEFINITE bonus -- new viewers won't catch on to them, but those familiar with the original should get an extra frisson when they appear. Other restored footage includes several scenes of everyone's favorite film-loving Georgetown homicide detective. If the "spider-walk" were scrapped (again!) this would easily rank as an 8-star film, but we think (and so does everyone else with whom we have discussed it!) that the "spider walk" should be permanently relegated to the cinematic dustbin.

DON'S PLUM: No, we don't have a review of this long-awaited film which was the subject of a multi-million dollar lawsuit against co-stars Leonardo DiCaprio and Tobey Maguire, But we DO have news on it, finally! Click on its title for the latest news.



Something's fishy in The Faculty

(c)1999 by Dimension Films



THE FACULTY (Now on video): A good, solid, suspenseful sci-fi thriller. Click on its title to read the review for details. (26 November 1999: Chris Martin, now starring in the syndicated television series "Peter Benchley's 'Amazon'" has rebuked us for failing to note that Faculty star Laura Harris played "Ashley" with him in Nickelodeon's popular teen soap opera, "Fifteen" a few years ago. Always a fan of "Fifteen," we regret the oversight and hope that her former co-stars Chris and Ryan "Two Guys and a Girl" Reynolds won't kick our butts for our failing to mention such an important factoid!)

GO: GO SEE GO! It's a Yojimbo-ish/Tarantino-esque story told from several points of view, most of them pretty interesting. Definitely W8: Worth $8.

The HAUNTING (1999): A pathetic re-make of one of the scariest American horror movies, it is a big-budget flop-a-ganza which relies on an enormous amount of set design and a tremendous number of special effects to attempt to achieve what the original did with subtle, suggestive dialogue, good music, a grand total of ONE "special effect," and, of course, real acting; the attempt fails miserably -- if you want to see a film version of Shirley Jackson's "The Haunting of Hill House," go for the original black-and-white version starring Julie Harris, Claire Bloom and Russ Tamblyn; it is vastly superior to this forgettable thing. Definitely NW2: Not Worth $2.



Billy Bob Thornton and Jon Bon Jovi in Homegrown.

(c)1998 by Columbia Tri-Star Home Video.



HOMEGROWN: On both video and DVD, starring Billy Bob Thornton, Hank "Apu" Azaria, and Ryan Phillippe, with John Lithgow, Jon Bon Jovi, and Jamie Lee Curtis. Our revier calls it a wonderfully funny film filled with great family values and a demonstration of how one community can pull together in a crisis. Recommended for everyone!!!

HOUSE ON HAUNTED HILL (1999): the 1999 version is much scarier than the original, which was plenty creepy in its day. Many of the old plot twists have been retained, but a new back story has been added and its twists are wound into the old ones, keeping the story fresh. Our On-Line Reviewer (taking a lesson from "Uncle Harley" Ellison) makes it a point to watch movies to the very end, until the last end credit has run. To viewers who left during the end credits of House on Haunted Hill, he says, "SUCKERS! You missed the last scene of the film!" True to the tradition of its original black-and-white predecessor, this version saves one of the biggest chills for the end -- this time, the very end -- after the end credits have finished rolling. A superior horror film, but too powerful for young children.

I STILL KNOW WHAT YOU DID LAST SUMMER (Now on video, and still not worth the money): Actually, none of us gave a damn about what any of these people did two-and-a-half years ago in this piece of drek. Our On-Line Reviewer wanted to lambaste this turkey in a full review for a long time, but even he can't think of a suitably creative commentary, having already determined that it is actually worse than Phantoms, for which he created his absolutely lowest rating ever; in fact, he sez that he can think of only two movies he's ever seen that were worse than this thing: EEEGAH! and Teenage Caveman, and mind you, our intrepid reviewer has seen such dreadful films as Plan Nine From Outer Space, Manos, The Hands of Fate, Attack of the Eye Creatures, and Batman and Robin. NW2: NOT WORTH $2.00!


Jimmy (Ryan Phillippe) makes a shocking discovery in Little Boy Blue.

(c)1997 by Jazz Pictures, Inc.(tm) Available on Warner Home Video.




LITTLE BOY BLUE: On video. Starring Ryan Phillippe, John Savage and Natassja Kinski. A creepy thriller in which Ryan plays an abused teenager who is forced to stay at home out of fear of his vicious father. This is a very, very intense movie -- we talked about it for days after seeing it. Sex, violence, murder, kidnapping, child abuse, sexual abuse, substance abuse, wife abuse. . . . Not for everyone, but recommended for those who can handle adult subjects like this; it's a film for people who like to think about what they see and discuss it afterwards. Our On-Line Reviewer will be doing a complete review of this film soon (or so he keeps saying). His viewing advice: see it, wait a week, then see it again; it may take two or more viewings to fully appreciate this dark little masterpiece.



Brad Pitt is "Joe Black" in Meet Joe Black.

(c) 1998 by Universal Pictures.



MEET JOE BLACK (now on video): This is an unbelievably tedious version of Alberto Casella's play Death Takes a Holiday. In this version, Death takes his holiday inside freshly-dead Brad Pitt and haunts Sir Anthony Hopkins and family so that he may experience life; by the time he finally acknowledges that he is on holiday (somewehere in the middle of this two-tape set), the long-suffering viewer could have seen the entire 1934 version, which starred Frederick March and Evelyn Venable. The result for the audience is murderously dull and asinine. Case in point: "Joe Black" (i.e. Death) has been around since the beginning of Time, but has never had a body, so he wants to experience physical sensations; plausible enough; so, naturally, when Death tastes peanut butter for the first time, it is a new experience for him; what should not be a new experience is recognizing peanut butter when he sees it. Or kissing. Or sex. Or any of a number of other things which a goggly-eyed Brad Pitt gawks at as if he (the entity as old as Time) had never seen them during the course of travelling the Earth and killing people. THE ONLY good performance in this movie is from newcomer Lois Kelly-Miller as "the Jamaican Woman" (although Jeffrey Tambor has a few good moments as "the Fredo" of the film). The credits list Martin Brest and "Alan Smithee" as the directors responsible for this fiasco. ("Alan Smithee," by the way, is a name which members of the Directors Guild of America have the right to substitute for their own names when they realize that the film which they have completed is really, really bad or has been altered without their permission.) Our unanimous conclusion: on our On-Line Reviewer's new scale of zero to ten stars, this stinker rates two stars; it is so not worth spending money on that we suggest that you see if your local library has a copy, check it out for free, then fast-forward to the two hospital scenes with "The Jamaican Woman" and watch those, one on each tape. (Two stars; two scenes with "The Jamaican Woman" -- yes, there is a one-to-one correspondence). Some viewers might also like the murals around the indoor swimming pool in the New York City residence which Anthony Hopkins maintains, so look for those just before Joe Black's one (rather boring) sex scene.

Pointless, but interesting trivia: Evelyn Venable, star of the 1934 version, was the original model for the Columbia Pictures logo. That one bit of trivia is more interesting than the whole of Meet Joe Black. Pray that you never meet him!



THE MUMMY (Now on video -- we suggest buying a used copy to avoid paying full price!): Our On-Line Reviewer has told you repeatedly: when a studio REFUSES to send a press kit to a film reviewer, it is because the studio knows there is something fundamentally wrong with the movie and they don't want critics warning the audience. The tactic certainly worked for Universal Pictures: they sucked up over US $70,000,000 before word-of-mouth got around: this is an unimaginative, second-rate "Indiana Jones" rip-off which isn't even a horror movie! If you want to see a good adventure film, rent The Rugrats Movie and save the twenty dollars or so you'll waste on popcorn at the theater seeing The Mummy. Two examples of how un-original the over-priced special effects in this dreck-fest are: both the light rays bouncing off of the mirrors and the sand zipping around before the mummy's face formed were ripped off from . . . believe it or not . . . the "Young Hercules" television series! We kid thee not, the week after The Mummy opened, the syndicators aired two episodes of "Young Hercules" which had the very same effects for which millions of Americans shelled out as much as ten dollars apiece (plus sodas, popcorn, etc.) to see; the "sand shark" action was such a rip-off that even the direction of motion and the sharp turn were the same! We rate this unimaginative, non-scary, shoddy rip-off as NW5: NOT WORTH $5. If you can see it on a double feature or rent it on tape, you might be getting your money's worth, but -- we repeat -- do not expect a horror movie.

MYSTERY MEN (on video): Hilarious parody of super-hero movies in which a group of third-rate heroes try to Save The City. Our Reviewer laughed so hard he cried. Okay for kids. W8: Worth $8.00

OUTSIDE PROVIDENCE: starring Shawn Hatosy (The Faculty, "In and Out," etc.) as bad boy Timothy Dunphy who gets shipped off to a private school, the star to watch is -- surprisingly, for a youth-oriented film -- Alec Baldwin, who is a likely nominee for Best Supporting Actor as Timothy's father, "Old Man Dunphy."

RANDOM ACTS OF VIOLENCE: Click the title to read the On-Line Review. Several distributors are negotiating for the rights to it.

THE RED VIOLIN (La Violon Rouge): Don't ask us to explain how this centuries-spanning drama about a very special violin which makes soul-wrenching music and leaves tragedy in its wake got lost in the shuffle here during our mirroring from Geo-Cities -- we don't know what happened to its review. The Red Violin is quite simply one of the best motion pictures of 1999, and a very likely contender for the Best Picture Oscar(r); inexplicably, it received a Golden Globe(r) Nomination for Best Foreign Film, being Canadian. The revelation of the violin's horrible secret is one of the creepiest moments in cinema history. It is one of the truly great films of our times -- see it at all costs!!!

RETURN TO INNSMOUTH (Special screenings only): A short horror film based on H. P. Lovecraft's classic "Shadow Over Innsmouth." It is shown with "The Making of ... " which explores the whys and the wherefores of the film. A full review is coming soon.

RUN LOLA RUN: Lola needs a lot of money -- fast. In fact, she needs DM 100,000 and has to deliver it across Berlin -- on foot! -- in only twenty minutes or her boyfriend will be killed. Or someone else will. Or maybe no one will. What seems like a straight-forward race against time movie is about as close to a "hyper-film," with different levels and cross links, as any feature film yet made. W8: Worth $8.

The SIXTH SENSE: 9-year-old Cole (Haley Joel Osment) has a secret and his psychitrist discovers it: Cole sees dead people -- all the time. With a big budget and high production values, nevetheless (like The Blair Witch Project ) it uses no special effects beyond what a talented high school student could rig, but it is one of the very few movies worthy of being called "a chiller." It has a shocking, surprise climax, and is way too scary for children. Special rating: P8: Pay the $8 before some fool tells you what the big surprise is! Having raked in about US $260,000,000 so far, largely on the basis of Haley Joel Osment's acting, we hope that young Osment will receive Best Actor nominations, and not be relegated to the "Supporting Actor" category because he plays opposite superstar Bruce Willis. (24 December 1999: Osment has received a Golden Globe(r) nomination for Best Supporting Actor in a Motion Picture. Sigh. Young actors get no respect in Hollywood.)

SLEEPY HOLLOW: "Hollow and Sleepy" says our On-Line Reviewer.

SOUTH PARK: BIGGER, LONGER, AND UNCUT: and much funnier than the TV show! And it's a musical, too! Fun for teens and adults. W8: Worth $8.00.

SPEEDWAY JUNKY: See our On-Line review of this up-and-coming film, which stars Jesse Bradford, Jordan Bradford, Jonathan "JTT" Taylor Thomas, Daryl Hannah, Tiffani-Amber Thiessen and others. Highly recommended! (17 OCTOBER 2000: this is one of the reviews which the Yahoo!kazas scrapped, so it is not accessible at the moment, but then, neither is the film. The last we heard, it had been released on video somewhere in Africa, but not even Executive Producer Gus van Sant's agent knows the status of the feature film. See it IF AND WHEN YOU CAN!)

STIGMATA: silly movie about an atheist woman who exhibits the signs of the stigmata -- the wounds of Jesus of Nazareth from his crucifixion. One of those films which makes the viewer ask: "What were they thinking when they spent money to film this thing?" Very forgetable.

THE THIRTEENTH FLOOR: The science fiction movie to see in 1999! This is a taut, suspenseful thriller, more film noir than science fiction (think of what Phillip K. Dick's The Man in the High Castle might look like if it had been given the Bladerunner treatment). Instead of pisssing away money on computer cartoons of robots and such, the producers of The Thirteenth Floor used simple, inexpensive special effects and spent their money where it really counts: they hired a good writer, a good director, excellent actors, production and costume designers, model makers, set dressers, a composer, and other people to make this a movie worth seeing and hearing. Special effects and computer graphics are superbly integrated into The Thirteenth Floor, and are strictly subordinated to and supportive of the story, the acting, the direction, and the production design. Since this film grossed less than ten million dollars in its first three weeks, we dare say that Columbia Pictures made a big mistake in its marketing plans for this movie. Despite its bad box office returns, we give it our highest rating: W8: WORTH $8.00.

THE TINGLER: a wonderful new print of this forty-year-old William Castle cornball horror movie is being shown in EXTREMELY limited release; in fact, co-star Darryl Hickman only saw the film theatrically for the first time during it's short run at the historic Alex Theater in Glendale just before Halloween, and told the audience what it was like working with the man who has been described as "the P. T. Barnum of movies." A totally dreadful film, the re-release is done with full-on William Castle showmanship, including "nurses" to tend to those who faint (or die), the sale of life insurance policies from Lloyd's of London for those who die of fright while watching it, the "coward's corner," and -- of course -- The Tingler itself, in the auditorium, along with seats which . . . well . . . if you get a chance to see this special re-release, go, GO, GO!!! The movie is awful, but the whole William Castle hoopla show is worth good money. For those who have never experienced a William Castle film, the movie Matinee, available on videotape, stars John Goodman as a William Castle-like filmmaker, who hooks Omri Katz and Simon Fenton into one of his special shows; it is only a vicarious plesure to see what Castle's shenanigans were like, but unfortunately it may be the only chance most theater goers ever have to know what a William Castle film was like.

VELVET GOLDMINE (Now on video): A hot little number about the Glam Rock era in Britain and the USA. It stars Jonathan Rhys-Meyers, Ewan McGregor, Toni Collette, Eddie Izzard, and Christian Bale. Some people have concentrated so heavily on the sexual element that they have overlooked the film's other virtues. Our reviewer sez that if Costume Designer Sandy Powell doesn't snag an Oscar(r) nomination for Shakespeare in Love, starring Ben Affleck, she'll get one for this. A beautiful movie with a beautiful cast in gorgeous clothes! (Note from the Grand Panjandrum: our On-Line Reviewer can sure call 'em! Ms. Powell was nominated for both movies and won for Shakespeare in Love.)



Jonathan Rhys-Meyers in the Todd Haynes film Velvet Goldmine.

Photo: Peter Mountain. (c)1998 by Miramax Films.




A WANING OF WARMTH: a creepy, haunting project about a young man who has something seriously wrong in his life. Very reminiscent of the "Night Gallery" television series. More info soon!



One of the spectacular special effects from Wing Commander




WING COMMANDER: Do Not be mis-led by prominent television film critics who either didn't see this film or were obviously not paying attention to it. Our rating: W5: Worth $5.00.

On 16 July 1997: someone finally put in a request for Wild America info; we contacted Warner Brothers and received . . . nothing. In the meantime, thanks to our correspondents at Y.M.S., we can help you find some info on Devon Sawa, Scott Bairstow, and J.T.T.
13 August 1997: what you see here is all we could get.
Okay, so it's Devon in "Lonesome Dove." At least we tried! (Besides, you can see him in his boxers in Idle Hands, anyway.)

Pinch "Pink" for a link to Dazed and Confused links.
Dazed and Confused. You know: Jason London, Wiley Wiggins, Ben Affleck, Esteban Louis Powell, Cole Hauser, Marissa Ribisi, Rene Zelwegger, Matthew McCona-who . . . that film.
Boycott Wendy's.

Thanks to Columbia Tristar (the same people who wouldn't send us a press kit for I Know What You Did Last Summer), we have pictures from Starship Troopers! See Film Opinions for a link to a quickie review.
(c) 1997 by TriStar Pictures. All rights reserved.


We've mentioned previously that we have an international audience. Now EuroSeek(tm) has made it official. After obeing listed with Euroseek(tm) since 10 April 1999, we have received more than 210,000 "hits," so that . . .
ON THE LATEST LIST OF ALL EUROSEEK(tm) COOLSITES IN THE ENTIRE WORLD, WE ARE THE 32nd MOST POPULAR!
"32nd? What happened to 20th?"
Euroseek(tm) is in the process of changing their software (which will enable people to pass freely from our GeoCities pages (currently being held hostage by the evil Yahoos) to our new site here on Tripod. As their upgrading proceeds, the CoolSites counter may not always be visible on this page, but, Euroseek(tm) has consolidated the various classes of web pages and . . . OURS IS THE 29th MOST POPULAR EUROSEEK(tm) COOLSITES PAGE -- OF ALL TYPES -- IN THE WORLD! As mentioned elsewhere on our site, we now have visitors from at least 33 countries, and about 16% of our visitors return at least four times. p>
We confidently assert that our web site is most definitely and emphatically "a work of recognized stature" under Title 17 of the United States Code!
You are supplicant number:
to visit our main page since 12 APRIL, 1999, e.v.
plus
16,000 (!)
others since 22 March, 1997, e.v.
As of May 24th, 2001, we have about
1533
frequently repeating supplicants! Thank you!
And now that we know how many of you there are . . . PLEASE SIGN THE GUESTBOOK!
HOW INTERNATIONAL ARE WE, NOW? VERY!
To be honest, we don't know how many countries from which we have received visitors. Many computer systems and Internet Service Providers are not recognized by geographic location by the software which we use for counting visitors, but, we have confirmed visits from the following countries: Argentina, Australia, Austria, Belgium, Brazil, Brunei Darussalam, Canada, Croatia, Cuba, Finland, France, Germany, Hong Kong, Iceland, India, Ireland, Italy, Japan, the Republic of Korea, Latvia, Malaysia, Mexico, Morocco, the Netherlands, Norway, the Philippines, the Russian Federation, Singapore, South Africa, Spain, Sweden, Switzerland, the United Arab Emirates, the United Kingdom, the United States (obviously!), and several other countries! We are gaining approximately one new reader somewhere in the world every single day!
We've also had recent visits from U.S. military computers, an unidentified U.S. government computer, and an "Old-style ARPANET" system. The U.S. Government is obviously targeting obital mind control lasers at us -- there can be no other possible explanation, or, as the saying goes, "It's not paranoia if they really are out to get you!"

Sign Our Guestbook
View Our Guestbook

The only good censor is a DEAD censor. We urge all censors to be good. Q.E.D.

(c) 1997, 1998, 1999, 2000 and 2001 by Jaundiced Eye Productions
For a detailed clarification of our copyrights under Title 17 of the United States Code and under the Berne Convention and all national laws giving effect thereto, please click here for an important Legal Notice.